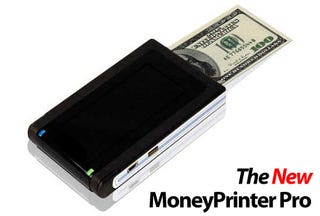 We're in a mess. But no problem is too large for technology to solve, right? Right?! Let's see what we can do to fix this economy.
For this week's Photoshop Contest, I want you to come up with some creative ways to solve the financial crisis using technology as your solution. Be it robots, machines, space colonies or anything like that, I want the most creative (read: insane) solutions you can dream up.
Send your solutions to me at contests@gizmodo.com with "Fixed Economy" in the subject line. Save your files as a JPG, PNG or GIF, and use a FirstnameLastname.jpg naming convention, using whatever name you want to be credited as. Send in your entries by next Tuesday morning, and I'll through them and pick the winners and put the best of the rest in our Gallery of Champions. Get to it!