Sony may have spearheaded Blu-ray, but besides the PS3, other companies have done more to push the format to become a great home-theater product. Today, Sony shows off the BDP-S770, a truly awesome Blu-ray player of its own.
This is not what you'd call a "me too" product—at the moment it has the hottest Blu-ray specs we have seen. Like other top models, it has integrated Wi-Fi, Bravia Internet Video Link (now with Netflix). Like the new crop of flagship players, it will support 3D movies. It even has DLNA support for serving up content across the home network (and maybe even apps like PlayOn, if I'm not mistaken).
But on top of all of that, it will support an iPhone/iPod Touch remote control app, which will be free in the App Store. Crazy, and restores some of my faith in a company that has fallen behind. The only thing we really don't know is pricing—and we won't know that until closer to launch this summer. By then, who knows, maybe others will have taken the iPhone-app angle too. For now, Sony can bask in the Blu awesomeness.
As you can expect, Sony has a ton of Blu-ray products coming down the line. I'm gonna let their spec list speak for itself:
BDP-S770 Blu-ray Disc™ Player
Available this summer
• Blu-ray 3D™ Playback
• BRAVIA® Monolithic Design
• Full HD 1080p single-disc Blu-ray disc™, DVD, SA-CD, CD player
• BRAVIA® Internet Video and BD-LIVE™
• IP Content Noise Reduction
• Built-in Wi-Fi® Wireless (802.11) with Wi-Fi® Protected Setup (WAP)
• Entertainment Database Browser with Gracenote technology
• BD Remote (iPhone®/iPod touch® remote control – free app.)
• DVD upscaling to 1080p with Precision Cinema HD Upscaling
• Dolby® TrueHD and dts-HD Master Audio™ decoding
• Photo/Music/Video Playback via USB and DLNA®

BDP-S570 Blu-ray Disc™ Player
Available this spring
• BRAVIA® Monolithic Design
• Full HD 1080p single-disc Blu-ray disc™, DVD, SA-CD, CD player
• BRAVIA® Internet Video and BD-LIVE™
• IP Content Noise Reduction
• Built-in Wi-Fi® Wireless (802.11) with Wi-Fi® Protected Setup (WAP)
• Entertainment Database Browser with Gracenote technology
• BD Remote (iPhone®/iPod touch® remote control – free app.)
• DVD upscaling to 1080p with Precision Cinema HD Upscaling
• Photo/Music/Video Playback via USB and DLNA
• Dolby® TrueHD and dts-HD Master Audio™ decoding

BDP-S370 Blu-ray Disc™ Player
Available this spring
• BRAVIA® Monolithic Design
• Full HD 1080p single-disc Blu-ray disc™, DVD, SA-CD, CD player
• BRAVIA® Internet Video and BD-LIVE™
• Entertainment Database Browser with Gracenote technology
• Wi-Fi® Ready (USB wireless LAN adapter sold separately)
• DVD upscaling to 1080p with Precision Cinema HD Upscaling
• BD Remote (iPhone®/iPod touch® remote control – free app.)
• Photo/Music/Video Playback via USB and DLNA®
• Dolby® TrueHD and dts-HD Master Audio™ decoding
G/O Media may get a commission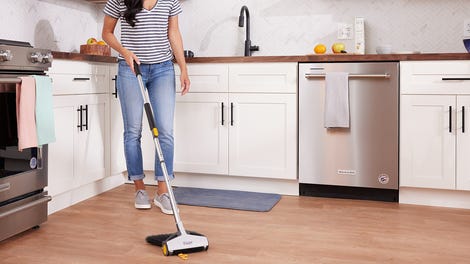 BOGO 50% Off
Flippr - BOGO 50% Off
And they've also got Blu-ray home theater systems:
BDV-HZ970W Blu-ray Disc™ Home Theater System
Available this summer
• Blu-ray 3D™ Playback
• BRAVIA® Monolithic Design
• 1000W Full HD 1080p Blu-ray disc™, DVD, CD, SA-CD 5.1 channel home theater system
• Integrated S-AIR® wireless rear speakers
• BRAVIA® Internet Video and BD-LIVE™
• Entertainment Database Browser with Gracenote technology
• Wi-Fi® Ready with included USB Wireless LAN adapter (802.11)
• BD Remote (iPhone®/iPod touch® remote control – free app.)
• Photo/Music/Video Playback via USB and DLNA®
• iPod® audio playback via USB
• Dolby® TrueHD and dts-HD Master Audio™ decoding

BDV-E770W Blu-ray Disc™ Home Theater System
Available this spring
• BRAVIA® Monolithic Design
• 1000W Full HD 1080p Blu-ray disc™, DVD, CD, SA-CD 5.1 channel home theater system
• Integrated S-AIR® Wireless Rear Speaker
• BRAVIA® Internet Video and BD-LIVE™
• Entertainment Database Browser with Gracenote technology
• Wi-Fi® Ready with included USB Wireless LAN adapter (802.11)
• BD Remote (iPhone®/iPod touch® remote control – free app.)
• Photo/Music/Video Playback via USB and DLNA®
• iPod® audio playback via USB
• DVD upscaling to 1080p with Precision Cinema HD Upscaling
• Dolby® TrueHD and dts-HD Master Audio™ decoding

BDV-E570 Blu-ray Disc™ Home Theater System
Available this spring
• Monolithic Design
• 1000W Full HD 1080p Blu-ray disc™, DVD, CD, SA-CD 5.1 channel home theater system
• S-AIR® ready for wireless rear and wireless multi-room speakers (sold separately)
• BRAVIA® Internet Video and BD-LIVE™
• Entertainment Database Browser with Gracenote technology
• Wi-Fi® Ready with included USB Wireless LAN adapter (802.11)
• BD Remote (iPhone®/iPod touch® remote control – free app.)
• Photo/Music/Video Playback via USB and DLNA®
• iPod® audio playback via USB
• DVD upscaling to 1080p with Precision Cinema HD Upscaling
• Dolby® TrueHD and dts-HD Master Audio™ decoding