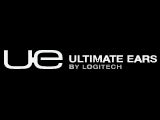 Ultimate Ears™ has spent years designing, testing and refining professional in-ear monitors. The result: Sound that is the purest expression of the artist. Grammy award-winning artist Seal says, "With Ultimate Ears, singing and listening becomes a simple pleasure."
The Killers. Marc McGrath of Sugar Ray. Leona Lewis. Today, Ultimate Ears custom earphones are used by 75% of the world's top touring professional artists for live performances. For a limited time, you can save $50 to $100 on these earphones - and listen like a pro.
Looking for professional-quality sound in a micro in-ear design? Check out the Ultimate Ears 700 noise-isolating earphones. For audio authenticity, consider the TripleFi 10 noise-isolating earphones. With three drivers per ear, you hear every nuance, every breath. And if you switch between listening to music to answering your iPhone®* or BlackBerry®*, then the TripleFi 10vi noise-isolating earphones are for you.
A pair of Ultimate Ears™ earphones may change the way you listen to music. Are you ready?
*All earphones can be used with iPod® and MP3 players. SuperFi 5vi and TripleFi 10vi are compatible with iPhone and BlackBerry smartphones with a standard 3.5mm jack.
Discount offer valid only in the United States and expires December 24, 2009.
Terms, conditions, pricing and service offerings subject to change without notice.