Three Dees and Four Gees. That's the Evo 3D. But it's more than that: The screen's a killer 4.3-inch, 960x540 auto-stereoscopic display, meaning it's almost as high-res as the iPhone 4 and pulls off 3D tricks without glasses (like Nintendo's 3DS).
Inside, you've got a dual-core 1.2GHz Qualcomm Snapdragon 8660 processor, so it can play back (or capture!) 720p video in 3D or 1080p video in 2D. (And Android 2.3 means you'll feel the full snappiness of the chip—depending on how heavy the latest version of HTC's Sense interface is, which now has a "carousel" desktop.)
The issue with 3D isn't that it's bad, per se—it's that there isn't enough content for it, unless you're talking about Nintendo's 3DS, which is gonna have a constant supply of quality content. It's still kind of iffy for the Evo 3D, unfortunately. Sprint's working with Blockbuster to deliver 3D movies and developers to create some 3D games, in addition to Google's YouTube 3D action (which may prove to be the most robust source of 3D content). Hopefully it's enough, but one phone is hardly a whole 3D platform. Fortunately, you can alleviate the problem to an extent by shooting your own 3D photos and video with the Evo 3D's dual 5-megapixel cameras (no word on which 3D format it's going to be shooting in or what it'll be capable of playing back—the problem we had with our last 3D camera). Oh, and of course you can switch 3D on or off at will, with a switch. If you want, you can move 3D content wirelessly to DLNA-compatible 3DTVs or via HDMI as well, though you'll need to put on your stupid 3D glasses at that point.
G/O Media may get a commission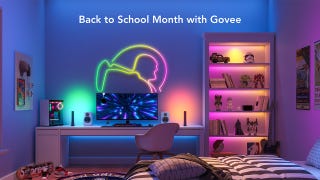 Back to School
Back to School Month with Govee Sale
BTW, early impressions confirm our main fear about the 3D after time with the 3DS's similar screen technology: The 3D viewing angle is very tiny. But in 2D it apparently looks fantastic.
Powering all of this? A beefy 1730mAh battery (compared to the original Evo's 1500).
There's no pricing info or hard release date—"summer"—but all in all, this is the most impressive phone HTC's put out in a while, and may be the Sprint phone to beat this summer, whether you're into 3D or not. And I'll be the first to admit: 3D photos? They're a nifty trick.
PRODUCTIVITY
Industry-leading 4.3-inch 3D QHD display with pinch-to-zoom and tactile feedback
3G/4G capability
1.2 GHz Qualcomm Snapdragon dual-core processor
World-class HTML browser – bandwidth and quality that rival that of netbooks
Android 2.3 (Gingerbread) and the latest version of HTC Sense, an acclaimed user experience, which includes Friend Stream to integrate Facebook, Twitter and more into a single flow of updates
Simultaneous voice and data capability in 4G and Wi-Fi coverage areas, enabling Web surfing and more while talking
GoogleTM mobile services, including Google SearchTM, Google MapsTM, Google TalkTM, GmailTM, YouTubeTM , and syncs with Google CalendarTM, as well as access to Google Goggles™ to search with pictures instead of words
3G/4G Mobile Hotspot capability supporting up to eight Wi-Fi enabled devices simultaneously
Android Market™ for access to more than 150,000 useful applications, widgets and games available for download to customize the experience

ENTERTAINMENT
Download, edit and share HD-quality content directly from the device
Dual 5 megapixel cameras, to capture 3D video and images and a 1.3MP front-facing camera, that together open up a new frontier for user generated content, social networking and streaming video
Access to 3D version of Blockbuster OnDemand app with access to 2D and 3D movies, TV shows and games for rent or purchase and download
Video chat service available as an upgrade to the pre-loaded Qik app to enable conversational, interactive, real-time sharing between mobile devices or from mobile-to-desktop
Capture video in HD quality, 2D at 1080p and 3D at 720p
Output HD content to a compatible TV using HDMI or DLNA
Media player with 3.5mm stereo headset jack
Sprint applications including Sprint Zone, Sprint TV & Movies®, Sprint Football Live, Sprint Navigation and NASCAR Sprint Cup Mobile
Stereo Bluetooth®
Built-in Wi-Fi: 802.11 b/g/n

SPECIFICATIONS
Dimensions: 5.0" x 2.6" x .48" (LxWxT)
Weight: 6 ounces
Main display: 4.3-inch 3D QHD capacitive display (960 x 540)
Battery life: TBD
Standard removable 1730 mAh Lithium-ion battery
Memory: 4GB Internal memory/1GB RAM; Expandable memory: 8GB microSD card included; supports up to 32GB
[Sprint]