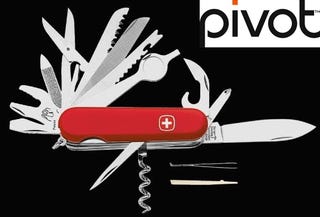 Sprint's getting together with Comcast, Time Warner, Cox and Advanced/Newhouse Communications to launch "Pivot," a new 4-in-1 deal that puts your mobile phone, home phone, broadband and digital cable services in one package. The service comes with perks beyond one monthly bill, such as unlimited calling between your "cable home service and mobile phones," and the ability to check email and voicemail from one source.
Coming later this year, you'll be able to program your DVR with your phone, much like Verizon's setup with TiVo. Also, for a "limited time," no indication on how limited, there's free text messaging between all Pivot customers.
The service is going to be rolled out to "40 metropolitan areas" by the end of the year, so suburbanites and rural dwellers are out of luck. You guys can read all about Time Warner over at Consumerist, though, if you want to feel better about being left out.
Press Release [Sprint]