The next Star Trek film has ditched the time-traveling plot line, and now writers Alex Kurtzman and Roberto Orci have announced that the sequel will revolve around its villain. But who will put this new crew to the test?
Now that Paramount has announced the release date for their second Star Trek, set for June 29th, 2012, the tight-lipped Kurtzman and Orci are starting to speak out a bit more. They're still not saying whether Khan turns up in the new film, but at least they're admitting they need a villain who can carry the film. Coventry Telegraph Geek Files reports from a Q&A with the writers with an update on the next film.
Addressing the rumors that the next film will be a remake of The Wrath of Khan, Orci nipped the idea in the butt:
"We would never do a remake… it will be some time in the five-year mission. But that is a question. Should we pick them up immediately the next day or should it be later? We are still discussing that."
G/O Media may get a commission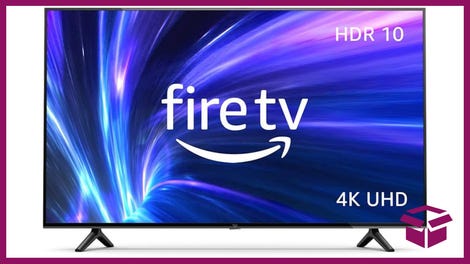 42% Off
Amazon Fire TV 50" 4K Smart TV
Kurtzman adds that the villain will be the most important part of the sequel:
I think our idea on this is that the first of any series is about them coming together or the formation. I couldn't really tell you what Jeff Bridges was doing in Iron Man, but it doesn't matter at all because it is all about Iron Man becoming Iron Man. Whereas I think sequels are very much about the villain. Because while [in the first film] the villain serves to bring the crew together, the second one I think has to be a true challenging of what that family is about. That is why Wrath of Khan was so amazing. Khan tested each one of them and ultimately asked for the [ultimate] sacrifice, and that is why that movie held up so well.
What evil character within the Star Trek universe would you like to see if Khan doesn't make it into the sequel?