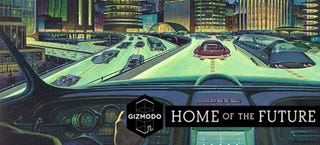 Are we destined to live in the shadows of luxury supertalls, piloting our self-driving cars into oblivion? As part of the Gizmodo Home of the Future, join us for a spirited debate on the future of New York streets, from the sidewalk to the skyline.
Experts from the worlds of architecture, urbanism, infrastructure, transportation, and real estate will deliver their visions for the way the city of today can—and should—transform into the megalopolis of tomorrow.
Andy Bernheimer, Bernheimer Architecture/Gizmodo Home of the Future
Marc Kushner, Architizer
Robin Nagle, NYU, author of Picking Up
Nikolai Fedak, New York Yimby
Karen Kubey, Institute for Public Architecture
Annie Barrett, Pratt Institute School of Architecture
Mayo Nissen, Frog Design
Jeffrey Inaba, Inaba Projects
Amy Schellenbaum, Curbed National
Matt Hardigree, Jalopnik
Geoff Manaugh, Gizmodo
and more to come...
Moderated by Alissa Walker, Urbanism Editor, Gizmodo
Streets of the Future: The Great Urban Debate
Saturday, May 17
2 to 4 p.m.
Gizmodo Home of the Future
268 Mulberry Street
New York City
The Basics
Dates: 05/17/2014–05/21/2014
Location: 268 Mulberry Street, near Houston Street in SoHo. Nearest subway: Broadway-Lafayette.
Hours: 11:00 am to late. The Gizmodo gang will be working on-site all week—with super-fast wifi, on snazzy furniture—and we'll be hosting events every night. Check the schedule for all our programming here.
Cost: Free!
---
For all media inquiries regarding the Gizmodo Home of the Future, please contact Patrick Kowalczyk at patrick@pkpr.com.