When you're perusing your Facebook account, your brain might be fooling you into thinking you're doing something incredibly creative and productive that will improve your life. If only that were true!
Scientists in Milan and at M.I.T. examined the various physiological states of 30 people using Facebook compared to when they were relaxing looking at natural panoramas or taking a math test. They measured physical and psychological responses including breathing rate, brain activation, and pupil dilation, and found that only while looking at Facebook (not while looking at nature pics or doing math), the study subjects were transported into a "core flow state," which is that thing that people often call, simply, flow. It's what you might experience when you're practicing an instrument, or if you're writing and feeling like everything is just, well, flowing. Mihaly Csikszentmihalyi describes it wonderfully in this TED talk.
We already know Facebook is harder to resist than cigarettes and alcohol. So it's not all that surprising that Facebook is enjoyable. Cocaine is enjoyable! But like an addictive drug, the results suggest the social network might have a sinister effect: Facebook makes you think you're being productive when really you're probably just telling everyone how delicious your lunch was and discovering that your best friend's cousin's baby just ate squash.
That's why perhaps it's important to keep in mind what Harvard's Daniel Gulati said: over time, Facebook is making us miserable. Everyone is a shiny happy person on Facebook. Very few people share their insecurities, misgivings, evenings spent alone in the fetal position. And if you experience any of that you might feel very much alone if your visiting Facebook often. In which case maybe consider playing your favorite instrument, hanging out with your kids, working on that novel, or doing something else that leads to actual flow. [Cyberpsychology, Behavior, and Social Networking]
G/O Media may get a commission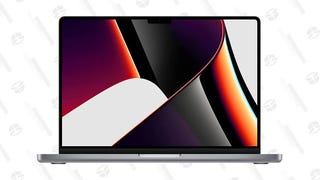 Save $300
2021 14" 1TB MacBook Pro
Image: Shutterstock/PressureUA