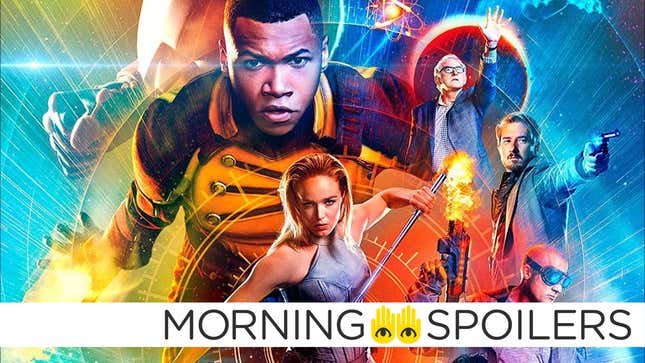 Get a look at another one of Logan's villains. David Wenham discusses his role in Iron Fist. Darren Aronofsky's Margaret Atwood adaptation Maddaddam is no longer coming to HBO. Plus, another look at The Walking Dead's next season, and behind the scenes on Doctor Strange and Transformers: The Last Knight. Spoilers!


Peter Rabbit
Domhnall Gleeson has joined the cast as Mr. McGregor, the farmer who harangues Peter and friends. [THR]
---
Logan
Here's another new Instagram picture, showing off one of the cyborg Reavers Logan will face in the movie.
---
Doctor Strange
Here's a new behind-the-scenes featurette, featuring a few gags from the film... and the cloak of levitation choking a dude out?
---
Transformers: The Last Knight
A new behind-the-scenes video takes a look at the giant contraption used to replicate a room tilting upside down for a scene in the movie.
---
---
Legends of Tomorrow
TV Line has confirmed that, following his return in next week's episode of The Flash, Captain Cold will return in the midseason finale of the show—this time not as an ally, but a member of the show's version of the Legion of Doom. [TV Line]
---
Arrow
Speaking of characters returning to CW/DC series, a new rumor reports that Michael Rowe is returning as Floyd Lawton—a.k.a. the Suicide Squad's Deadshot—in tonight's episode. Given that Arrow was heavily discouraged from using its Suicide Squad characters again in the run-up to the movie, it's a strange move to see him back. [SpoilerTV]
But returning characters don't stop there! TV Line also confirms the 100th episode will somehow feature Malcolm Merlyn, Damien Dahrk, Deathstroke, Moira Queen, and Laurel Lance. No one stays dead on a CW/DC show.
---
Iron Fist
David Wenham discusses his villainous role in the series as Harold Meachum:
I play Ward's father, Harold. Harold was a business partner with Danny Rand's father. They have a corporation called Rand. He's a very wealthy, powerful individual, so that was fun to play, 'cause I'm not. In terms of the family dynamic, I think it's fine to say that the relationship between the three of them — Harold, Ward, and Joy — is complex, to say the least. It's multilayered, it's multidimensional, it's surprising and it's forever changing, depending on the circumstances. It's forever evolving. And, you know, it's a strange relationship.
[CBR]
---
MaddAddam
Darren Aronofsky's adaptation of a trio of Margaret Atwood novels set in agrim future is now dead at HBO, but there's still hope the series could be picked up by another network. [Vulture]
---
C.R.I.S.P.R.
NBC is developing a totally bizarre-sounding future-set police procedural, executively produced by Jennifer Lopez.
C.R.I.S.P.R.— aka " clustered regularly interspaced short palindromic repeats" — is a procedural thriller set five minutes into the future that explores the next generation of terror: DNA hacking. If the project moves forward, each episode will explore a bio-attack and crime — from a genetic assassination attempt on the president to the framing of an unborn child for murder. The show's central character is a scientist with the CDC who is paired with an FBI agent. In the same vein of Castle, romance will blossom between the scientist and the FBI agent as they team to bring down a diabolical genius with a twisted God complex: her former boss. The drama will see mentor and protégé battle for control over the human genome in a game of cat and mouse in which the future of our species may rest and all disease could one day be eradicated.
[THR]
---
The Walking Dead
Finally, here's a new image of Ezekiel and his pet tiger, Shiva.
---
Additional reporting by Gordon Jackson. Banner art by Jim Cooke.