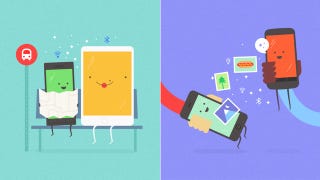 Last year when Google bought Bump, an app that lets users transfer data from device to device without help from NFC, its plans for the app weren't clear. But based on reports from Android Police yesterday, Google's been working on a service that may integrate some of that functionality.
Sharing is getting just a little bit easier in iOS 7 with the addition of AirDrop. Just like in the latest versions of Mac OS X, you'll be able to share photos, contacts, notes and the like over a peer-to-peer Wi-Fi network or over Bluetooth. So any item that works with iOS's share function, can be sent to others…
Apple's Worldwide Developers Conference (WWDC) doesn't kick off until tomorrow, but the internet's been wildly speculating about the company's plans for months. Some of it is almost definite (hello, flat design) and some of it's absurd (stop it with this). Here are all the goodies we actually expect Tim Cook and his…
In 2011, Apple introduced AirDrop for OS X Lion, a feature that makes sharing a file between two Macs as easy as dragging and dropping it. Two and a half years later, we're still waiting to see it on iOS. Could we finally get peer-to-peer iPhone and iPad sharing in iOS 7?
What's in the water down under? This is the second year in a row an Aussie has won the James Dyson Award, with both designs also aiming to save lives — albeit in very different ways. This year's winning product is Airdrop, a network of pipes that sucks water from the air and irrigates drought-stricken Australia with…
Developers can start using OS X Lion from today, but the rest of us will have to wait until summer to start using the iPad/Mac OS hybrid—which includes a neat new way to share files over the same Wi-Fi connection.
Dear Little Rock Air Force Base,
Next time you make a spectacle of dropping one or two hundred of us out of planes, make sure we have somewhere to land other than THE WOODS.
Sincerely yours, The Paratroopers [YouTube]