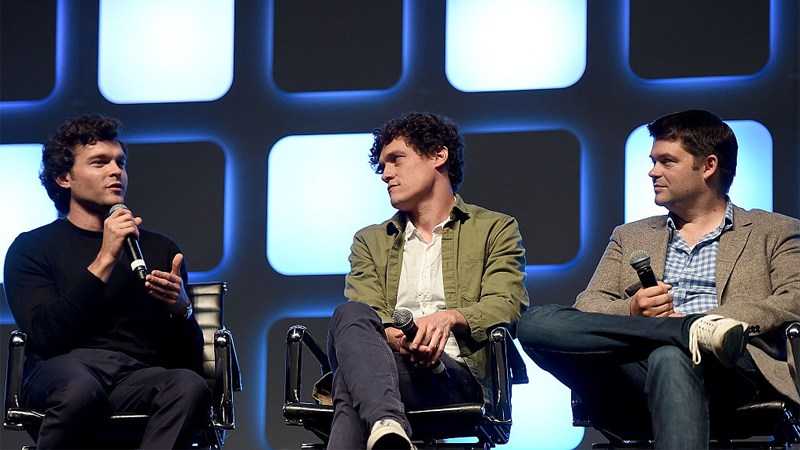 The fallout from Chris Miller and Phil Lord's shocking exit from the Han Solo film a week ago continues, with more and more details about the rift emerging day by day. One new report even claims that Lucasfilm weren't just unhappy with Miller and Lord's approach: they were concerned about the performance they were…
Hair alert! io9 is back with all your breaking pop culture hair news, this time concerning our brand new Han Solo.

I didn't mean to. I just walked into a theater to see a movie, and there he was—Alden Ehrenreich, the actor recently cast as the young Han Solo, one seat away from me. He was just there to see a movie on a quiet Sunday afternoon, just like me. It was only after I sat down that I realized something was wrong. I was…
It's finally confirmed—Alden Ehrenreich is indeed the new Han Solo, and will star in Phil Lord and Chris Miller's solo Solo film. Apparently, Ehrenreich was literally the first person to audition for the role out of more than 3,000 actors. He also screentested in the Millennium Falcon and with Chewbacca, too.

The rumors are true. Alden Ehrenreich, who made a name for himself earlier this year in the Coen Brothers' Hail Caesar, has been cast as the young Han Solo in the 2018 Star Wars story directed by Phil Lord and Chris Miller.
Disney and Lucasfilm have apparently whittled the list of actors who could star in the Han Solo origin movie down from every young man in Hollywood to just three people: Taron Egerton, Jack Reynor, and Alden Ehrenreich.

According to Deadline, Columbia Pictures recently reviewed the screen tests of several potential Peter Parkers for director Marc Webb's unnamed Spider-Man reboot (which is known around these parts as Spider-Man: Begin Again). The following young actors threw their hat in the ring:


- Jamie Bell (Tintin from …
Spider-Man director Marc Webb has collected a gang of potential Peter Parkers for his new Spidey reboot. And now that we know it's not Percy Jackson, let's see who's on the short list for Columbia's new Spidey picture.