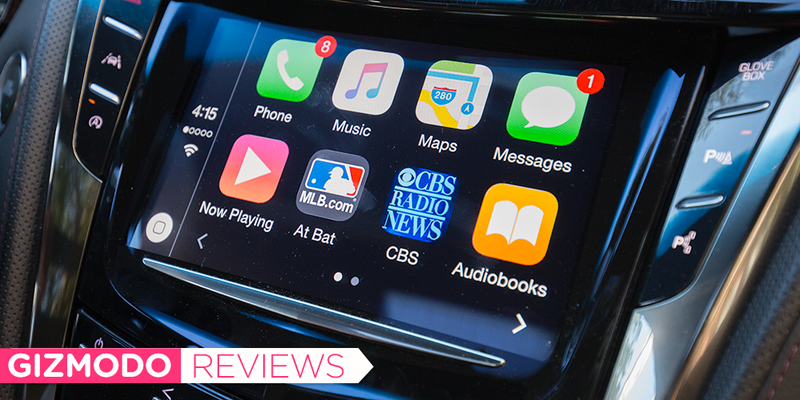 The first time I saw CarPlay in action, I couldn't believe it. You could plug your iPhone into the infotainment system and then get iOS on your dashboard?! It seemed like Apple finally found a way to turn an automobile into a rolling computer like Knight Rider.

Parrot's RNB6 promised an in-dash system that would work with Android Auto and Apple CarPlay. It promised a Utopia of car tech that would make any smartphone compatible with basically any car. And it still promises all those things, but only if you buy a new vehicle.
At its big developer's conference today, Apple announced new functionalities to CarPlay, it's just too bad you can't buy a new car with it installed yet – unless you own a Ferrari.

Chevrolet has announced it will integrate both Apple CarPlay and Android Auto into 14 of its models next year. That's a lot of cars, and Apple anticipates that CarPlay will be in 40 models worldwide by year's end. I tried out both systems at an event yesterday, and left curious: Have cars finally become rolling…
We've known that a new set of diverse/sickly cartoon friends has been on its way for a while now. But thanks to the new iOS 8.3 beta download, that day is finally here. You can officially send your friend a tiny, jaundiced, disembodied head.
Pioneer's NEX in-dash systems are some of the most advanced out there, putting interactive multimedia and navigation powers in even the crappiest vehicles. And they're getting even better in 2015 with support for both Android Auto and CarPlay. No matter which side of the smartphone wars you're on, Pioneer has you…
The CarPlay interface is undoubtedly better for using while driving than the regular 'ole screen. But unless you've got a shiny new car (or one of the expensive aftermarket dashes), chances are you don't have anything to pair your iPhone with. But this tweak gives you an idea of what CarPlay would look like running on…
Microsoft's no stranger to in-car entertainment systems; it's been powering a number of auto-makers' interfaces for years. But now, Microsoft is getting serious about its own, Windows Phone-centric car integration system—and it looks an awful lot like Apple's own CarPlay.
While Apple showed off a few screengrabs of its CarPlay in-car iPhone and iPad integration system earlier, we finally have some actual video of it in action. Not surprisingly, it turns your car's dashboard into a big 'ol iPhone copilot.