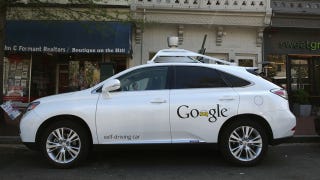 We've moved beyond the geewhizOMG phase of autonomous cars and into the dirty, nasty, contentious world of legislation and regulation. The California DMV has issued its rules that Google (and others) have to abide by, and with that fight over, now we know what the crew from Mountain View wanted to hide.
In 1979, two artists covered a Southern California building with futuristic murals. They painted moon motorcycles, high-tech highways, and spaceships that would look right at home in Kubrick's 2001: A Space Odyssey. But as delightfully retro-futuristic as the building is on the outside, what happens inside may…
In an effort to make the DMV seem less like the seventh ring of hell, the Tennessee Department of Safety and Homeland security has installed 72 iPad kiosks in 26 of these Satanic outposts across the state.
New York is joining Washington State and North Carolina by offering motorists the option to purchase an Enhanced Driver's License (EDL) with an embedded RFID chip. The license will enable travelers to pass in and out of Canada, Mexico, Bermuda and the Caribbean without having to use a traditional passport. The DMV…