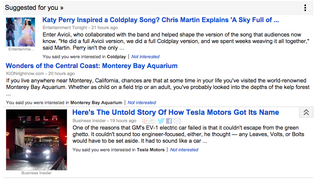 Google just added a new Suggested Stories feature to its news search results, so you can let the search engine pull up a customized selection of stories to read about based on whatever terrifyingly dense accumulation of personal data Google has on you by now.
The Spanish government has just approved a horrible law that will force news aggregation services, such as Google News, to pay news sites for each link they include with their content. You read that right: On top of sending sites a ton of traffic, Google (other aggregators like Yahoo News, and maybe even Facebook or…
The days of bypassing subscription fees on Google News appear to be numbered now that Google has updated their First Click Free program. Publishers can now limit access to five articles per day before readers are routed to payment pages.
Last week I joked that Microsoft paying big sites to de-list from Google would never fly—but it just might happen. We know Rupert Murdoch is thinking about de-listing News Corp content, and now Microsoft may provide an incentive.
Rupert Murdoch—owner of some of the finest and fairest news organizations in the world, true beacons of journalism—is thinking about retiring all his content from Google. Well, Señor Ruperto, apparently Google doesn't give a goddamn about it:
It May Be The Best WoW Costume Yet, But It Makes Me Cry...Cupcake Frosting Robot Takes The Fun Out Of Licking Up Messes...Palm Will Not Be Having A Very Merry Christmas...Personalized Google News Pages Appeal To The Narcissists In Us
News junkies rejoice! Google has begun scanning microfilm from various newspapers' historic archives to make them searchable online, further pushing libraries towards obsolescence (just kidding, i think). The searches can be had first through Google News, and will eventually be available on every papers' own website.…