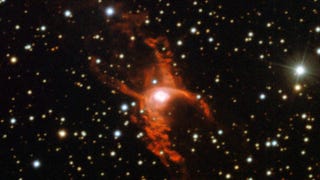 This weird, hourglass-shaped structure is a planetary nebula, the not entirely accurate name given to the clump of gas that forms after a dying sun ejects it outer layers. Astronomers recently looked at over a hundred of these nebulae in the Milky Way's galactic center. Shockingly, a huge number of the nebulae appear…
In 1797, legendary astronomer William Herschel first caught sight of this object and declared it "a very remarkable phenomenon." Although it's sometimes called the Clownface Nebula, it's probably better known as the Eskimo Nebula, because it resembles (however vaguely) a person's face inside a parka hood.
Also known as the Eight-Burst Nebula — or, if we want to be all boring and technical, NGC 3132 — this cosmic beauty is located some 2,000 light-years from Earth. It's not actually a regular nebula at all, but instead it's what's known as a planetary nebula, the result of a star dying and venting its remaining gas into…
Could this be a cosmic-scale amoeba like the one encountered by the Enterprise crew in "Immunity Syndrome?" More likely, it's the planetary nebula IC 1295 — a glowing green bubble made from gas that's being blown out by a dying star.