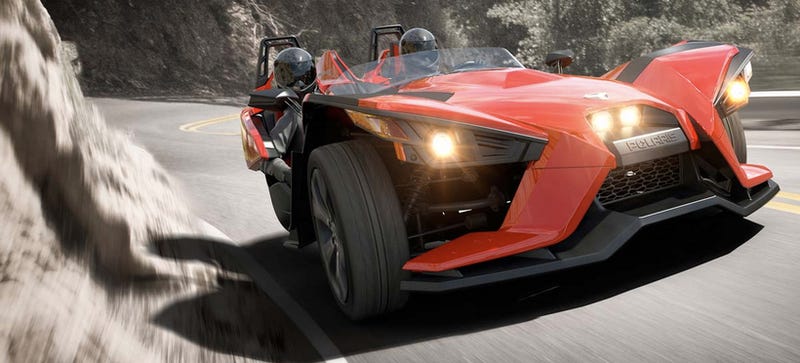 What you're looking at is going to be one of the most fun cars debuting for 2015. But, the Polaris Slingshot isn't a car, it's a "motorcycle." Here's why that matters and what it means for you, the enthusiast driver.
Tesla, which makes an electric Roadster and is hoping to make an electric Sedan, just sold 10% of itself to Daimler.
Potentially setting a new record for distance travelled by a production electric car on a single charge, a Tesla Roadster finished the entire, 241-mile-long Rallye Monte Carlo d'Energies Alternatives without even draining its battery.
Bad news for electric car fans and the guys who build 'em. Tesla has let go 90% of their Detroit staff in the interest of "consolidating" their workforce in San Jose. The lucky remainder gets to relocate to California, no expenses paid, to keep their jobs. Then again, the economy is bad and Tesla isn't exactly raking…
Tesla Motors, maker of the much hyped (and well reviewed) electric Roadster is suing Fisker Automotive, the outfit behind fake vroom-y Karma, for stealing Tesla's design and trade secrets. Supposedly, this pushed the sale date for Tesla's four-door sedan, White Star, back six months, to 2010. Henrik Fisker (the…
The Telsa Roadster's been a long ways a comin', and here are the first reviews in the March issues of the fossil-fuel loving, pulp-based mongrel cousins of Jalopnik. And after a few hours flogging the e-car on California's Skyline Boulevard, most pubs have concluded that the Tesla is the first electric car—the first…
It's a good day for people who love things that go really, really fast. Our favorite super electric car — the Tesla Roadster — has won an INDEX prize for being so damn cool. The INDEX prizes are the world's most lucrative design awards, given every two years for five categories — body, home, work, play and community —…
Aw, shucks. The Tesla Roadster, everyone's favorite electric sports car, isn't going to be quite as impressive as the initial stats claimed. While the first announcements about the car said it would have a 250 mile range, a letter that was sent out to the first 380+ people who've ordered one let them know that, due to…
This may be "shocking news" to General Motors, but apparently there's a pretty decent demand for an all-electric vehicle in today's market. The Tesla Roadster Electric, which does 0-60 in four seconds and promises not to explode on the freeway have all been called for.