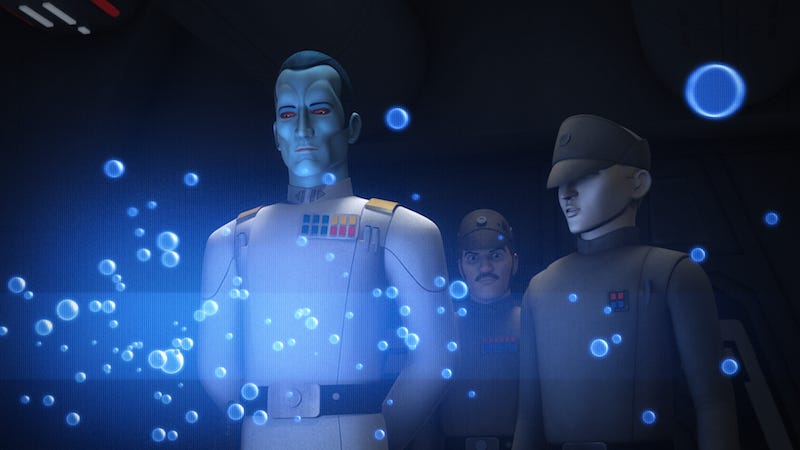 Thrawn is a great Star Wars book that stands on its own. But the little nods and winks Timothy Zahn makes to Thrawn's old life in the Expanded Universe novels—and to the events in Rebels, where Thrawn is currently the main antagonist—add another layer of delight. You should definitely read Thrawn (and watch Rebels),…
Hello, and welcome to a completely biased review of Thrawn, the latest Star Wars book to fit into the space between Revenge of the Sith and Star Wars: Rebels. There are no spoilers here, so feel free to relax. Only don't, because I am so happy to have author Timothy Zahn's voice back in Star Wars, I could cry.

Next week, Timothy Zahn's Thrawn, a book about the rise to power of everyone's favorite grand admiral, will be released. I've never anticipated a Star Wars book more, and now seems like the right time to look back at the books that introduced him and evaluate if they really were as great as popular wisdom says they…
When Disney acquired Star Wars and Lucasfilm announced the all the stories of the Expanded Universe had been jettisoned, it seemed like a galaxy far, far away was getting a fresh start. But that hasn't totally been true, as pieces of the EU keep making their way back to the new canon. Now it seems like Star Wars may—…
USA Today has an excerpt from Thrawn by Timothy Zahn, which is out April 11 and still too far away for my liking. It reveals that Thrawn, before he was a grand admiral or even a member of the Imperial military, had a surprising source of information on Emperor Palpatine

Now that we've seen Star Wars: The Force Awakens, we've also been seeing how a galaxy far, far away has changed from what had been put together by hundreds of authors over the last two decades. As we've learned a little more about the new world that exists post-RotJ, it's clear that there's more than a little…
Theodore Sturgeon, who would have turned 97 today, was one of the all-time great science fiction writers. And he came up with a great maxim that defines much of what SF authors do to make their work extraordinary: "Ask the next question." Some current authors explain how this maxim shapes everything they do.
Timothy Zahn has rocked your world with his Star Wars books and his other space opera adventures. But in his new book Soulminder, he's exploring questions of near-future medical ethics, and the result is much more disturbing. To prove it, here's an exclusive excerpt.
Yes, you read that right. Timothy Zahn is returning to the Star Wars universe — and this time, he's telling a story about just the scoundrels. The rogues. The ne'er-do-wells. This tale of a heist gone wrong stars Han Solo, Chewbacca, Lando Calrissian, and some newer characters. And we've got an exclusive excerpt right…