Quentin Tarantino came to Comic-Con to discuss his upcoming movie, The Hateful Eight, and despite seven minutes of new footage and actors like Kurt Russell, Tim Roth, Bruce Dern and Jennifer Jason Leigh being along for the ride, the presentation was all about technology and history.
The panel began with a video, introduced by Samuel L. Jackson, explaining that The Hateful Eight will be getting a roadshow release on Christmas day. Basically, 100 theaters will screen the movie on 70mm film. It even teased it would have an overture, intermission and program.
Tarantino shot the film in 65mm Ultra Panavision, which has an aspect ratio of 2:76 to 1. Most movies these days are 2:35 to 1, so Ultra is the largest widescreen format you can shoot on (It's shot in 65 and projected at 70). To do this, Tarantino and his team went to Panavision and found their Ultra Panavision lenses. However, only one set had ever been made. That means the lenses that shot The Hateful Eight are the same lenses that shot Ben Hur, The Battle of the Bulge, Mutiny on the Bounty and It's a Mad, Mad, Mad, Mad World.
This is a movie set largely in one place, though. So Tarantino told the audience he wanted to correct a misconception. "70mm isn't for travelogues," Tarantino said. It doesn't have to be something vast like Lawrence of Arabia. "When you shoot 70mm indoors, it makes it more intimate, more vital. It's for shooting great drama."
Tarantino, a well-documented hater of digital projection, said shooting on 70mm is one of the reasons he got into movies. "I didn't work 20 years to work with diminishing returns," he said, referring to digital. "I didn't get into this business for DCPs. I figured If I shoot in 70, they'll have to release it in 70."
G/O Media may get a commission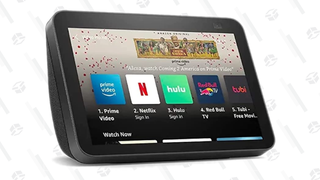 He acknowledged too that, if film does go away, he may stop making films all together, but that doesn't necessary mean he'll quit being an artist. "I see digital projection as HBO in public," Tarantino said. "So if that's the case, I could move to television. Just write my stories as long as I want and we shoot them all."
As for that footage, it was absolutely beautiful. Not just the detail—the snowflakes, the steam coming off a cup of coffee—but the oddball, fun characters Tarantino has created for the film. It's probably the best footage shown in Hall H so far during Comic-Con.