The Adventures of Drunky is a passion project for filmmaker Aaron Augenblick. It's about a boozehound who somehow gets stuck in the middle of a wacky bet between God and Satan. It's also that rarest of creatures: an R-rated, animated comedy feature aimed at adult audiences. But Augenblick has high hopes.
"It's basically my version of an underground comic, blown up to super size. It's the movie that I've wanted to make since I started this studio [in 1999]," Augenblick tells io9 from his Brooklyn HQ. "It follows the main character, Drunky, a barfly, who lives in the worst city in the world, which is called Nowheresville. He basically becomes the pawn in a bet between God and the Devil about the nature of man. In doing so, they steal his girlfriend, so he has to travel to heaven to save his girlfriend and save the world."
It's an intriguing premise, with a hell of a cast doing the voices (including Sam Rockwell, Augenblick's favorite actor, as Drunky). But while there have been several well-received, R-rated animated dramas—like Charlie Kaufman's Anomalisa, which received an Oscar nomination—R-rated animated comedies that succeed are rather rare, unless you hail from South Park or a similarly well-known zip code.
Augenblick is hoping that Drunky—which he loosely based on the Book of Job, but drew inspiration from Daffy Duck, too—will help turn that tide. "Basically, I'm making the biggest bet in my life that there's an audience for this kind of movie. But I truly believe that there is. I wouldn't be doing this if I didn't think so. On television, no one questions when cartoons are for adults, whether it's Archer or South Park or Adult Swim. It's just for some reason, the subject matter for feature films is so narrow. Animation has existed for almost as long as live-action films, and in that time, there have been so many live-action genres, while animated movies have generally been 95 percent kids' movies. But I believe that there's a new wave of animated features that's just on the horizon that I'd be happy to be a part of—[movies like] Sausage Party and Nerdland. There's a lot of really exciting stuff happening."
Getting investors to back an R-rated animated feature film hasn't been the easiest task, so the director's Augenblick Studios (Superjail, Wonder Showzen, Ugly Americans) is now turning to Indiegogo and asking fans to help them finish the film. (Augenblick, who co-wrote Drunky with Aaron Bergeron, points out that Anomalisa was completed with the help of Kickstarter funds.)
G/O Media may get a commission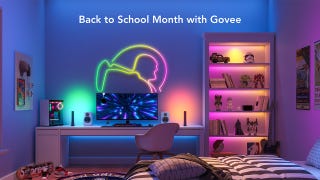 Back to School
Back to School Month with Govee Sale
The campaign launches today at 10:00 am, and the video for The Adventures of Drunky's Indiegogo campaign is debuting here exclusively:

Yep, that's Jeffrey Tambor as God, instructing you to "buckle your eardrums;" in the movie, he'll be doing a lot of sparring with Steve Coogan, perfectly cast as the Devil, along with Sam Rockwell, Nina Arianda, and the rest of the cast that's highlighted in the video.
The Indiegogo campaign will run for a month; aside from somewhat expected donor perks like original artwork or getting to go to the premiere, Drunky patrons can donate to be drawn into the movie or—appropriately enough, given the subject matter, go on a bar crawl with Augenblick himself. Cheers!