Fox has pulled the plug on Joss Whedon's controversial mind-sponges-for-hire show Dollhouse, although the show will finish the 13 episodes already planned. Update: A show insider tells io9 the airdates of the remaining episodes.
A show insider tells io9 that the network will definitely not be ordering any more episodes after the current 13, but the show remains in production for now. (They're making episode 11 at the moment.) The 13th. episode will serve as the series finale, and this gives Joss Whedon a chance to wrap up the show in a "significant" way.
And the insider told us this is the schedule for airing the remaining episodes:
Dec. 4 - 8:00PM-10:00PM ET/PT (Episodes 5 & 6)
Dec. 11 - 8:00PM-10:00PM ET/PT (Episodes 7 & 8)
Dec. 18 - 8:00PM-10:00PM ET/PT (Episodes 9 & 10)

Jan. 8 - 9:00PM-10:00PM ET/PT (Episode 11)
Jan. 15 - 9:00PM-10:00PM ET/PT (Episode 12)
Jan. 22 - 9:00PM-10:00PM ET/PT (Episode 13 / Series Finale)
Dollhouse has had a troubled run and some uneven episodes, but I persist in believing that one day we'll realize what we had here. When you sit down and watch the DVD box sets of seasons one and two, a year or a decade from now, things will fall into place and you'll suddenly realize quite how daring and mind-expanding this show was.
You'll find yourself waking up at three in the morning, your mind stuck on one of the show's candy-coated images of glamorous slavery. You'll be daydreaming at work, fantasizing about being someone else, or having the perfect person love you just the perfect way — and then you'll flash on one of Dollhouse's many episodes about how your fantasies can become a prison for other people who get trapped in them. Other shows offered escapism — Dollhouse gave us a commentary on how escapism can help create prisons for other people.
G/O Media may get a commission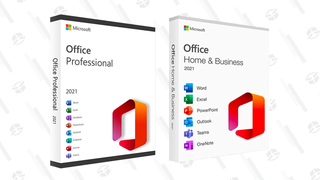 89% off
Microsoft Office Professional 2021 Lifetime License
Still, if a few million extra people were to tune in to watch a two-hour dose of Summer Glau on the 4th., then you never know, right?
Update: Joss Whedon posted this comment over at Whedonesque (thanks for the heads up, Bonnie!):
mm. Apparently my news is not news.

I don't have a lot to say. I'm extremely proud of the people I've worked with: my star, my staff, my cast, my crew. I feel the show is getting better pretty much every week, and I think you'll agree in the coming months. I'm grateful that we got to put it on, and then come back and put it on again.

I'm off to pursue internet ventures/binge drinking. Possibly that relaxation thing I've read so much about. By the time the last episode airs, you'll know what my next project is. But for now there's a lot of work still to be done, and disappointment to bear.

Thank you all for your support, your patience, your excellent adverts. See you again. -j.