Whether you know it or not, chances are your style choices have been influenced by The Avengers, the British show which made "saving the world" a fetish. Check out some exclusive images from a new book celebrating the Avengers' style.
Yes, yes, there's that other team called the Avengers — but did they have a bowler hat or kinky boots? Well, maybe the boots. But probably no member of the more well-known Avengers team ever took a cigarette break while being slid inside what looks like some kind of mind-probe. (Any idea which episode picture #5 is from?) Of course, Marvel's Avengers team is getting a big movie in 2012, and the British Avengers have never had a movie. (Shut up. No, they haven't.)
Here's the blurb for The Avengers: A Celebration, out at the end of the month from Titan Books:
Compiled with unprecedented access to the show's official archive, The Avengers: A Celebration is a glorious visual tribute to mark the 50th anniversary of the show that defined 60s television [Titan Books, Nov, $29.95]. Written by Marcus Hearn (Hammer Glamour, The Hammer Story), with a foreword by the legendary Patrick Macnee, this stunning, large-format hardback is packed with newly discovered photographs and exclusive memories from the cast and crew.

Fifty years ago, production began on The Avengers, a TV series that has yet to be rivaled for its wit, adventure and sheer style. Urbane agent John Steed (Patrick Macnee) fought diabolical masterminds with a succession of impossibly cool female partners. These included Cathy Gale (played by Honor Blackman), Tara King (Linda Thorson) and of course the iconic Mrs Peel played by Diana Rigg. The show quickly became a worldwide sensation syndicated to 90 countries, including the US, where it was a prime time hit!
The Avengers: A Celebration imagery copyright © 2010 CANAL+ Image UK Ltd. All rights reserved

G/O Media may get a commission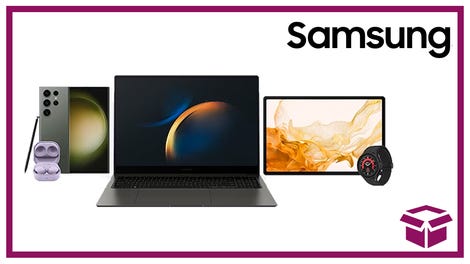 24 hour deals
Discover Samsung - Daily Deal
The Avengers: A Celebration imagery copyright © 2010 CANAL+ Image UK Ltd. All rights reserved

The Avengers: A Celebration imagery copyright © 2010 CANAL+ Image UK Ltd. All rights reserved

The Avengers: A Celebration imagery copyright © 2010 CANAL+ Image UK Ltd. All rights reserved

The Avengers: A Celebration imagery copyright © 2010 CANAL+ Image UK Ltd. All rights reserved

The Avengers: A Celebration imagery copyright © 2010 CANAL+ Image UK Ltd. All rights reserved

The Avengers: A Celebration imagery copyright © 2010 CANAL+ Image UK Ltd. All rights reserved

The Avengers: A Celebration imagery copyright © 2010 CANAL+ Image UK Ltd. All rights reserved

The Avengers: A Celebration imagery copyright © 2010 CANAL+ Image UK Ltd. All rights reserved