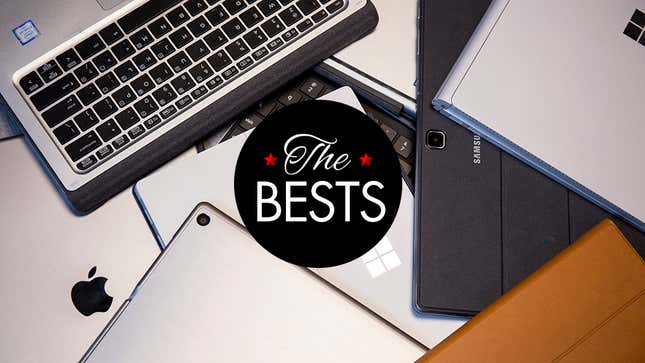 Remember when laptops were laptops and tablets were tablets? Well, those days are gone, replaced with acrobatic foldables, detachables, and liquid-cooled enigmas. Buying a new computing machine has never been such a strange decision as it is today, so we decided to round up the very strangest hybrid devices out there and see if they really were the next evolutionary machine of the laptop genus.
---

Over the past few months, I've lived and breathed 2-in-1s. To be included in the list, a computer only needed one thing—it had to have been built with an detachable keyboard in mind. Many of these machines are what some would call Surface clones, Microsoft's hybrid laptop which has seen many copycats since it was first introduced in 2012. Other than that, it could run mobile operating systems or full-fledged Windows.
These machines were also evaluated by artists to test their pen input capabilities (when applicable) and additionally tested for a wide variety of use cases, including anything from just getting some work done to being just an awesome Netflix machine. After using all the hybrids we could get our hands on, this is what we'd recommend if you foresee such a computing machine in your near future.
G/O Media may get a commission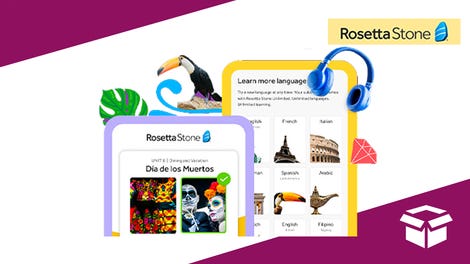 Extra 20% off
Rosetta Stone Lifetime Subscription - All Languages
[Note: This is a constantly updating post. New devices that fit this category will be added as we review them.]
---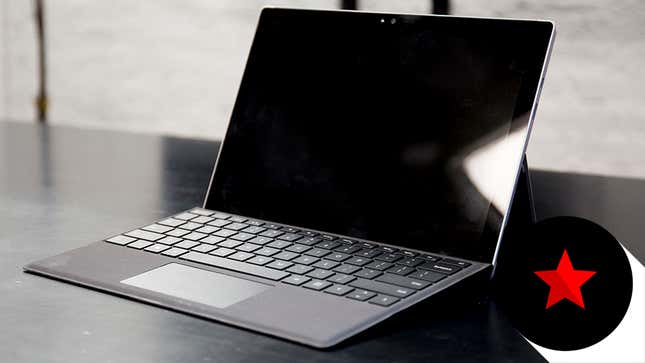 The Best Overall: Surface Pro 4
For the price (which is currently pretty cheap), the good old Original is the best 2-in-1 out there. With the fourth iteration of its weird lap machine, Microsoft finally gets a lot right. The keyboard is markedly improved, it still packs in the latest powerful Intel chipset so you can actually use this thing as a fully functioning computer, and it's uniquely equipped for Windows' best features like stylus support and Windows Hello.
There are a couple machines that would fit that description, but where the Surface Pro 4 starts breaking from the pack is battery life. As a relatively new(ish) product category, 2-in-1s are still struggling to provide battery life that actually makes the device feel portable. The Surface Pro 4 does an admirable job with upwards of 6 hours of battery (though certainly not the best—we'll get to that.)
Of course, there's also the Surface Book, the Pro 4's more powerful and bulkier brother. For most people, the Surface Book is just too expensive for a non-traditional laptop. The Surface Pro 4 hits that price sweet spot nicely.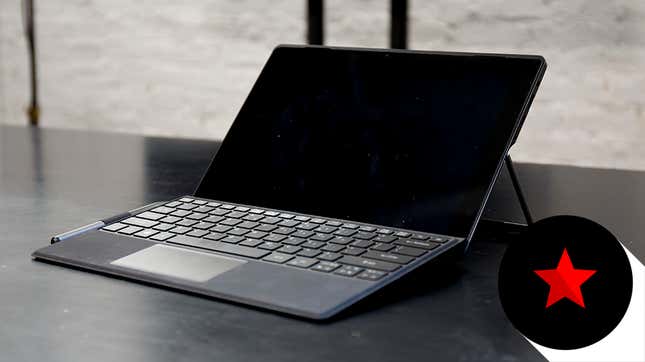 The Best for the Price: Acer Switch Alpha 12
Weirdness is a defining characteristic of all these laptops, but this one might be the weirdest. Its got a liquid cooling system, which allows the Alpha 12 to run a more powerful processor from Intel while still keeping a fanless design.

It's also very inexpensive. At $800 for an i5, 256SSD, 8GB model, you'd be spending hundreds more for the Surface Pro 4 equivalent, and that doesn't even keep in mind the price of the not-included keyboard.
The only thing that's worrying about the Alpha 12 is its less-than-stellar battery life, which hinders how mobile this can really be. But for the cost, it makes relatively few sacrifices. If you don't mind lugging around a charger sometimes and want to save a little bit of cash, the Switch Alpha 12 is an option worth considering.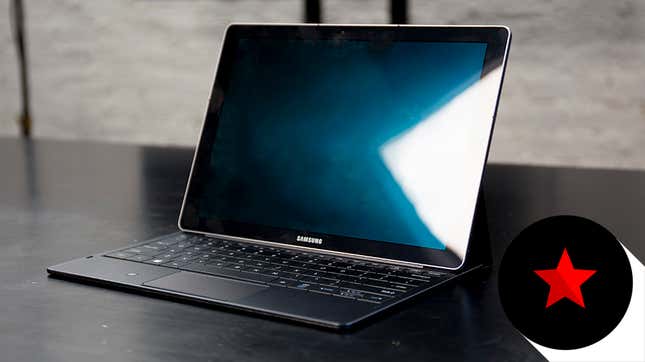 The Best for Travel: Samsung Galaxy TabPro S
The ideal tablet for travel is the perfect mixture of compact design and great battery life. Although perfect might be a stretch, the TabPro S is the best hybrid you can buy if you're a wandering soul.
Thanks in part to its battery-efficient AMOLED display, the Galaxy TabPro S can reach upwards of 9 hours of battery life. We ran a simple YouTube streaming test (Nyan Cat for 10 hours), and the TabPro survived hours longer than that.
Its keyboard, while not the greatest typing experience, is compact and at least includes a trackpad—unlike the iPad Pro or Pixel C. The TabPro S is limited by its case, which only allows the tablet to sit in two fixed positions. But if you're using this primarily while flying or to send quick emails, it shouldn't be much of a problem.
And for Samsung, it's not too expensive at only $900 though Samsung goes with the battery-saving Core M chip instead of Intel's more powerful silicon.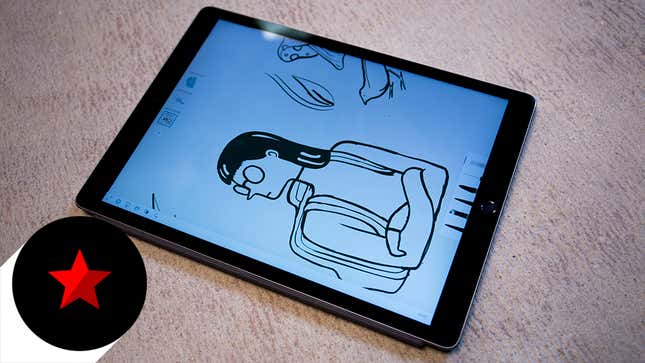 The Best for Artists: Apple iPad Pro
If you want to sketch on a hybrid, the iPad Pro is the clear winner. The Apple Pencil feels incredibly natural (though somewhat large) and is the most natural drawing experience compared to the rest of these devices. I turned to Gawker staff illustrator Angelica Alzona for more advice and watched her naturally drift to the iPad Pro over other tablets and laptops.
However, the best for artists is a tricky question because it's heavily dependent on what exactly you want to achieve. If you want something that closely resembles that natural feeling of a drawing on a piece of paper, the iPad Pro is your guy (lots of artists think the same). If you want a more full-featured solution—running Photoshop, tweaking things in Illustrator, etc.—then the Surface Pro is likely worth a look.
The Best When You Really Want a Laptop: Microsoft Surface Book
When Microsoft announced the Surface Book in October 2015, it was one of the more electrifying gadget reveals we'd seen in years. In a way, it is Microsoft's very first laptop. But because of its detachable feature, it's also like the more handsome, spare-no-expense older brother to Microsoft Surface, which ignited its own hardware revolution of sorts.
But the Surface Book is another beast separate from the Surface Pro 4. While most of these hybrids are primarily tablets, Surface Book is unapologetically a laptop first. This thing is ultra powerful, especially if you opt for the more expensive models with a discrete GPU baked into the fucking keyboard. It can run the most powerful Intel processors. The keyboard and trackpad are a dream, especially when you look at the mushy keyboard nightmare like the iPad Pro.
But the Surface Book is a lot like saying a Ferrari is your favorite car. Sure, everyone would love to have one but significantly fewer people can actually afford one. Microsoft offers up configurations of the Surface Book upwards of $3,200. That's ludicrously expensive. At that price, you could save $2,000 with almost any other laptop on this list, though some configurations do go for as low as $1,350.
---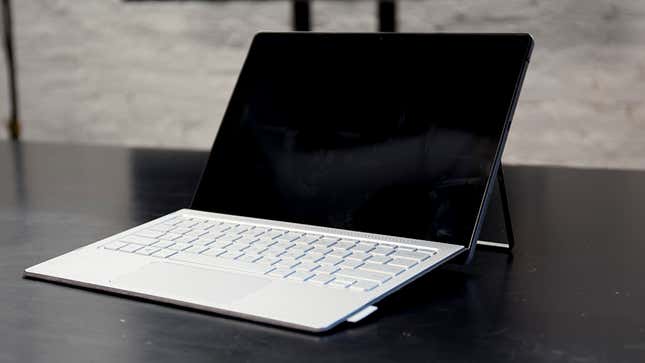 HP Spectre x2
The hardest part to get right on a hybrid device is the keyboard, and the Spectre x2 nails it. But it doesn't offer quite enough to justify its higher price. It may be worth a consideration if you happen to like HP's approach to design.
---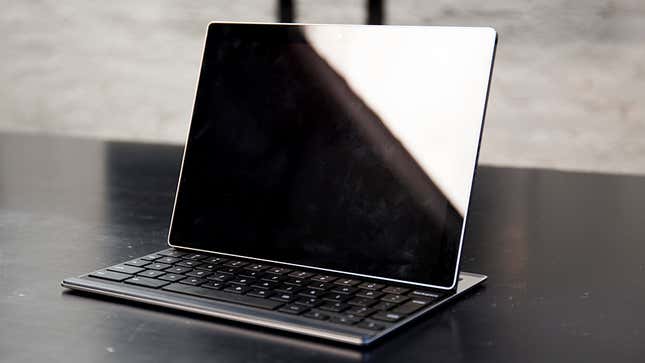 Google Pixel C
Although the Pixel C is considerably better with Android Nougat (which is still in beta), the mobile OS just isn't great at multitasking. Even iOS for tablets does a better job. Read our full review.
---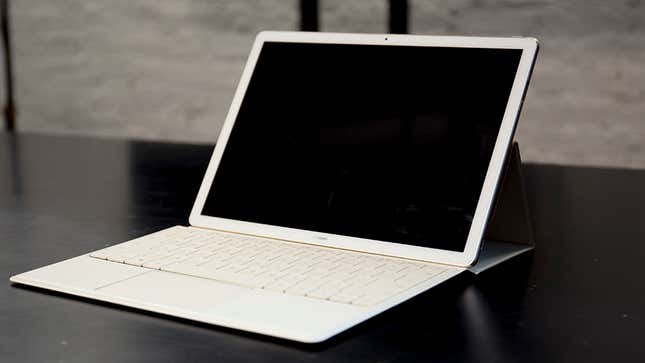 Huawei Matebook
Matebook is the most iPad-inspired design out the whole bunch of Windows hybrids, but this thing is absolutely terrible when it comes to battery life. It's even more frustrating because it doesn't come with incredible performance either. I love the looks, but that's about it.