Apple is the innovator and Microsoft is the imitator. That's long been the prevailing narrative, but with the Surface and the Surface Book, things changed. The Microsoft Surface Book has a really neat hinge, and the Surface is the first 2-in-1 to not suck. It's so good that Apple even aped it, with middling results. Now Samsung, the other great imitator, is chasing Microsoft and Apple, and consumers are reaping the benefits. The Galaxy TabPro S is the first genuinely great 2-in-1.

It's difficult to characterize the Surface as a 2-in-1. It's definitely the definition of one: a tablet with a detachable keyboard. But the tablet portion is bulky. When the keyboard isn't attached the Surface feels incomplete. When it is attached, it never quite hits that laptop-like sweet spot—largely because it's insanely irritating to use the Surface on your lap.
The Galaxy TabPro S doesn't have that problem. The combined cover and keyboard can be tough to fold correctly the first few times, but once you're over the learning curve, you can easily rest the device on your lap and get to computing.
Unless you're a very excitable typist.
G/O Media may get a commission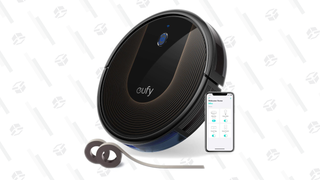 48% Off
Eufy BoostIQ RoboVac
I didn't think I was. I type with zest, and you can hear my keystrokes from across the country, but when I use the Galaxy TabPro S I feel sloppy. It's because the keyboard sits so close to the touch screen. Time and again, I'd reach to adjust the volume, or use an F-key, and would instead accidentally move the cursor or click out of a program with my tiny finger.

The keys themselves are great, but not perfect. Much like the keys on the Surface 3, they're large with a minuscule gap between them. That can lead to some accidental and frustrating presses.
But they're not terrible keys. They're not like the iPad Pro keys that sound like sticking your thumb in Gak, or the awful barely-there keys of the original Surface RT. They've got a satisfying click to them, and the typos due to space issues aren't so bad. It's just irritating when you've got the Surface 4 right there. It has the perfect tablet keyboard and it's been out for six months. If you're going to ape the Surface series as often as the Galaxy TabPro S does, why not ape that superior keyboard?
There are two places where the Galaxy TabPro S refuses to ape the competition. One is in actual tablet design. This is noticeably not a Surface or an iPad. This is a Galaxy Tab. Which means out of its case it's so thin you're terrified it will snap in two. Inside the case, though, it feels sturdy while being light enough that I can toss it in my bag and forget it's there.
The other spot is the display. The Galaxy TabPro S has a gorgeous AMOLED display—which is a fancy word way of saying it's got an OLED display like those super expensive LG TVs, and each pixel in the display may be controlled individually for better contrast and lower energy consumption. In the last few years OLED displays haven't appeared in anything larger than a phone or smaller than a TV because of power restraints. You have to really crank the brightness to see an OLED display outdoors, otherwise it can appear absolutely rotten, but cranking your brightness can quickly drain your battery.

Fortunately you're probably not going to be using the Galaxy TabPro S outdoors enough for it to toast the battery and the display is not even a little rotten. The colors it outputs are rich—saturated—a very particular kind of color saturation. Samsung mobile devices tend to prefer pretty, saturated colors to accurate colors and the Galaxy TabPro S isn't any different.
My Windows 10 background has never looked better than on this device, but because it values that attractiveness over accuracy, it also makes me hesitant to recommend it for content creators. You wouldn't want to edit photos or tweak a website design on this device, because the colors you choose will look very different on a more accurate display like anything out of the Apple lineup.
There's another feature of the Galaxy TabPro S that keeps it from being content creator friendly. An Intel Core M processor.

To be fair to the Intel Core M, it is not a terrible processor, and it makes a lot of sense for tablets and 2-in-1. Hell, that's what it was designed to be used with. It doesn't draw a lot of power and it's the perfect amount of processing juice needed for consuming content. You can watch high-resolution videos, play games full of pre-renders like TellTale's The Walking Dead series, and browse Gizmodo to your heart's content. It's not built for the user who is editing audio clips, making gifs, or poorly photoshopping celebrity faces onto Jabba the Hutt's body.

The Galaxy TabPro S costs $899. That's cheaper than Apple's Core M product, the MacBook ($1299), and the 12.9-inch iPad Pro with keyboard cover ($968). It's even cheaper than the Core M version of the Surface 4 with keyboard cover ($1028). But the Galaxy TabPro S never quite feels like the primary computer that the price tag demands it be. Instead, the keyboard and low-power processor keep it firmly in the land of secondary device for a lot of people. If you're one of those folks consuming the content and periodically shooting off a missive, it might be worth it. The rest of us will keep hoping the iPad Pro series stops sucking, or the Surface gets cheaper.

ReadMe
Gorgeous, if inaccurate, display
Super affordable compared to the competition
Only okay keyboard
Light and thin enough to be used as a frisbee in emergencies
Stay tuned to Facebook Live today at 11:15am ET to ask Alex any and all questions about the Samsung Galaxy TabPro S.