This year I acted as an embedded reporter at Burning Man, a place of extreme temperatures, high winds, and white-out dust storms. The ultra-fine alkaline dust is hell on gear—so it'd seem like a good place to test some rugged stuff out, right?
I brought nine critical items for nine days in the desert. Some of it was a lifesaver. Some of it was totally useless. Here's how it all held up.
1. Pentax K-30
Let's start with the superhero of the trip: the Pentax K-30. Our original review was exactly on point. Easy to use when snapping gorgeous, super-sharp stills with an 18-135mm lens).
G/O Media may get a commission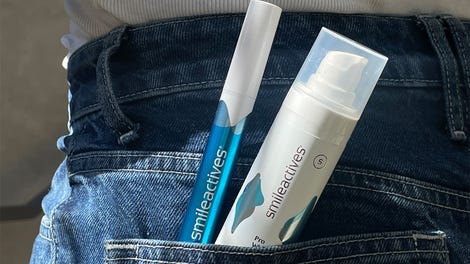 58% off
Whitening Powerhouse Pen & Gel Duo
Plus, it weathered whiteout dust-storms that would have killed most other DSLRs. Photogs saw me with that extending lens and told me straight-up that it wouldn't last the day. Their cameras were dropping like flies, but the K-30 didn't give me a single problem producing these gorgeous shots.
That said, the video quality is as horrendously bad as promised. And there's no mic jack. Both dealbreakers. But if I only cared about stills, I'd be all over this. [$1,080 as tested]
2. Motorola Atrix HD
The Motorola Atrix HD was a pretty good phone when I reviewed it, and it seemed like the logical one to take. With its Kevlar back and splash-resistant guts, it had to be tough enough. Or so I thought. After about two days in the desert, the radios couldn't connect to 3G, 4G, or Wi-Fi. Nothing. And it was barely exposed to any dust! It never came back to life, even after a factory data reset once I got back to civilization. So much for the Atrix HD. [Free on AT&T contract]
3. Dell Latitude E6430 ATG
Not going to lie, I took one look at this semi-ruggedized laptop and said, "There's no way in hell that's going to survive." Wrong. Nine days later, the Latitude was caked in dust, but it never missed a beat. Not only that, the 2.9GHz Intel i7-3520M Processor, 6GB of RAM, and 128GB SSD hummed through HD video using Adobe Premiere. It was fast, the screen was bright, it had robust Wi-Fi connectivity, and terrific battery life. And it fit in a medium-sized backpack.
If it had failed, my whole assignment would have been scrapped. Good thing it turned out to be the perfect laptop for the trip. [Starts at $2,000 / $3,200 as tested]
4. REI Base Camp 4
I fell in love with this tent on a camping trip earlier this summer. Nice floor space, decent headroom, pockets everywhere, and two enormous vestibules for stowing gear. There's so much mesh, that it breathed amazingly well. I thought it'd be the perfect tent for the hot desert. I was an idiot.
During every dust storm (and there was at least one per day) everything inside the tent would get completely covered. I spent nine days living in dust. It was horrible. Once there, I learned that it's best to go with one of these canvas Kodiak tents which breathe well but don't let the dust in.
Bottom line on the Base Camp 4: It's a terrific tent for basically everywhere except Burning Man. Oops. [$370]
5. Hydration Pack: Hydrapack Laguna
Everything was looking nice and rosy at the beginning with Hydrapack's Laguna backpack. The three-liter bladder was enough to keep me from dying of dehydration on super hot days. The 600-cubic-inch pack carried a DSLR, a backup point-and-shoot, audio recorder, notebook, dust googles, mask, and more, with enough pockets to keep it organized.
The problem? The hose kept comping disconnected from the bladder. It happened at least once a day, and was very annoying every time. Also, you have to hold the bag open with one hand while refilling the bladder, making it much harder to use than those with a twist top. In general, I liked that pack, but CamelBak and Platypus both make better hydration bladders. [$110]
6. Headlamp: Princeton Tec Quad
As mentioned in the Ultimate Backpacking Outfit story, this is just a terrific light for a good price. It has three brightness levels, with a 78-lumen max, plus a strobe for emergencies. Light, comfortable, and waterproof to one meter, the Quad had no problem in the super-dusty conditions. [$29]
7. Bike Light: NiteRider Lumina 500
This light won the title of Best Bike Light for Under $100 in a recent test. A lot of the data on those four lights came from use at Burning Man, where this one produced the brightest, clearest pool of light. We never needed it brighter than its lowest setting.
It's a killer light—easy to attach, very stable, and with five modes. We just wish it had swappable batteries so we could keep a charged backup battery ready. That said, the battery life is terrific, and a charge indicator ensures you're not suddenly left in the dark. [$90]
8. Backup Camera: Panasonic DMC-TS4
In the event that the Pentax K-30 bit the dust, I needed a backup. What better than the winner of our Battlemodo for the Best Waterproof, Rugged Camera? Turned out to be a good pick.
Despite getting caked in dust, the TS4 didn't miss a beat. I even brought it out to get a sunset picture or two in the middle of a serious white-out dust storm. No problem (see top image). And the price has come way down lately—act fast. [$240]
9. Marmot Plasma
This sleeping bag, another pick from our Ultimate Backpacking Outfit, is absurdly comfortable. Plenty warm even on the chilliest desert nights, with a super roomy footbox, the lightweight 900-fill down fits into baffles designed so the stuffing doesn't shift around. It's wonderful for backpacking.
But honestly, it's overkill for Burning Man. Pack weight isn't really an issue there, and it's just way too expensive for something that's going to get so nasty. You're better off getting something heavier and roomier, like some old sheets and blankets, in case you want to squeeze a friend in with you. Heyo. [$440]
Those are the main items I was working with. The other thing I was really glad I had (aside from copious amounts of duct tape): A little squeeze bottle of teflon dry lube. That's not only for you bike's gears, but also for any gear that has zippers. That fine blowing dust there is friend to no zipper.
If any of you other burners out there brought some truly essential gear to the Black Rock desert, tell us about it—or share a picture of it covered in dust.