Remember when the best free phone you could get was monochrome candy bar phone? And you were thankful because that Nokia phone had Snake on it. Things are better now—you can get an actual smartphone from a carrier for free (with the usual two-year contract). But which is the best one from each carrier? Let's jump into the bargin bin and find out.
Is AI Moving Too Fast? | Future Tech
Also remember: some of these deals are ending soon and are web only.
---
T-Mobile: Hurry! The HTC Sensation is available for free on T-mobile through the end of the day. It's the best free phone you can possibly get right now, on any carrier. It has a 1080p camera, 4.3-inch qHD screen, it runs on T-Mobile's 4G network. This is an awesome phone that's free. Compared to this, it's like AT&T and Verizon aren't even trying.
---
G/O Media may get a commission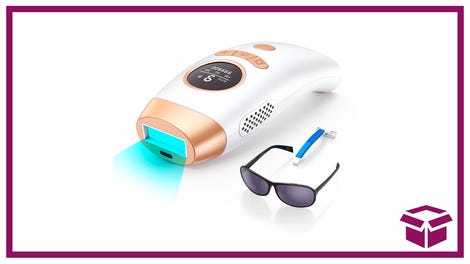 58% Off + Coupon
IPL Hair Removal Device
Verizon: Verizon's free phones are pretty crappy. The best free phone you're going to get is the Sony Ericsson Xperia Play. The Playstation/Android phone has a slide out gaming pad, is running Android 2.3, has a four-inch display and works on Verizon's 3G network. Which sounds fine, but most Android games don't support the game pad. The non-gaming phone option, is the LG Enlighten. Which is kinda sad.
---
AT&T: The HTC Status is the, free tiny-screen, physical-keyboard having, Android phone from AT&T you should check out. If can't you update your Facebook status with those pesky virtual keyboards, this is your phone. The Status has a 5MP camera and runs Android 2.3. Of course if you're already part of the Apple ecosystem, you can get a free two-year-old iPhone 3GS from Apple's site. And if you're really adventurous, AT&T has the webOS-powered Palm Pixi Plus available for free. None of these are great phones, it's more of a three-way tie for mediocrity.
---
Sprint: The HTC Evo, while over a year old, is Sprint's best free smartphone. It has a 4.3-inch display, snaps pictures with an 8-megapixel sensor, flies around on Sprint's 4G WiMax network and runs Android 2.3. There's also the new Samsung Conquer, but it's sort of a meh phone. The HTC Evo Shift, which also runs Android 2.3 and has a slide out keyboard, is tempting, but packs a smaller display and lower resolution camera. According to Sprint's site, the free HTC EVO offer ends 12/14.