Happy Halloween, people! Tonight is the night — so paint on the makeup and get out your lattes and brooms, you Basic Witch. Here are the most jaw-dropping Halloween costumes we've found posted on the Internet this year.
Weatherman from WDRB gets creative with the green screen. Watch the full video here.[via Brian Dies]
Everything is awesome in this homemade LEGO Movie Costume. The creator even shared how they put the whole thing together over at Instructables.
G/O Media may get a commission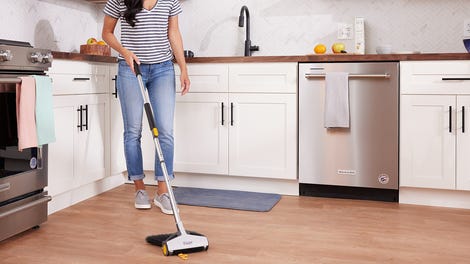 BOGO 50% Off
Flippr - BOGO 50% Off
The INSANELY talented Phi Phi O'Hara dressed in not one, but four amazing costumes for Halloween 2014. Any of these costumes deserve a "Best Dressed" trophy on their own, but all four. It's... so... beautiful.
Left to right: Pizzazz from the Misfits, Greta Gremlin, Yzma, and Lydia Deets.
I mean seriously, this is amazing. Image via Phi Phi O'Hara.
Labyrinth Family is back and KILLING IT again this Halloween with their spin on the Little Shop of Horrors. Image from the Deconstructress Designs Facebook page (where the family sells rad costumes).
Basic Witch via Redditor KIRKFOG.
As these photos taken at the Woo Hoo! Classic Simpsons Trivia Chicago meet up attest, this was an EPIC Simpsons costume party. These costumes were deep, deep cuts of Simpsons awesomeness. My personal favorite was Bart's clown bed ("Can't sleep, clown'll eat me") and Lisa's "Floreda" costume made by Homer. But there's so much more over at Buzzfeed, including Kang and Kodos and the Be Sharps.
Every year, former Paralympian (now motivational speaker) Josh Sundquist creates an amazing costume. We've seen him as a flamingo, as the leg lamp from the Christmas Story, and this year he's a foosball player. And it is wonderful.
Rob Cockerham from Cockeyed dressed up as the entire Downton Abbey building. Behold the tedious work over at his website.
If we're going to be subjected to thousands of Frozen costumes, at least try and do it with a twist—like the amazing friend of commenter LordRae, who contributed this image to the io9 Halloween Costume party. Vampire Elsa, people!
Sweet Krang Costume from Redditor guimancreative.
Nightmare! Nightmare! Nightmare! Nightmare! Imagine this little thing running around your front yard. Hell. No. Created by Articus12, this Cheshire Cat is too scary for real life.
Death Becomes Her Group Costume via TowelRoad.
Redditor kkkkeyuh created a homemade Xenomorph costume for their 4-year-old, thus making this the coolest kid at the Halloween parade!
Ashlea Henson can turn you into Disney's Scar with her makeup prowess.
Commenter SeanHurlburt's amazing HAL from the io9 Costume Show.
Professor Hubert J. Farnsworth created by Frank Ippolito Via tested.com and. frankippolito.com
Marie Antoinette costume via The Meta Picture.

Katy Perry was a Flamin' Hot Cheeto.
Adam & Steve!
Creepy Clown with additional insane Ice Cream Head.
Nightmare Before Christmas Makeup Tutorial. I don't know if I could do this, but I would be willing to drink a bottle of wine and give it the old college try.
Fabulous hat.
Cabbage Patch Kid, STILL IN THE BOX!
Be still my heart!
It's the cat shark riding a Roomba!
This is just a very good American Horror Story Twisty the Clown. Via Scum Goddess Tumblr.
Wonderful literary halloween costume from Delaney At Cycloramas Tumblr.
Calvin & Hobbes created by Megan over at Costume Works.
Hipster Sansa Stark by Redditor Ichtragebrille.
A very good couple's costume via The Meta Picture.
Reader Mike Thompson submitted the perfect mashup costume: Philip J. McFly:
And finally, RGB Baby.