We've witnessed some amazing concept art during io9's concept art week, and celebrated everything from the artists who make it happen to the tools they use. Here are some of the most stunning, mind-expanding concept art posts.

The Year in Concept Art: From Iron Man 2 to Tron
We've already appreciated some of the incredible movie concept art from years past. But there's plenty of gorgeous design work coming out from the movies of 2010. Here's our tribute to the artists who are making today's films beautiful.
G/O Media may get a commission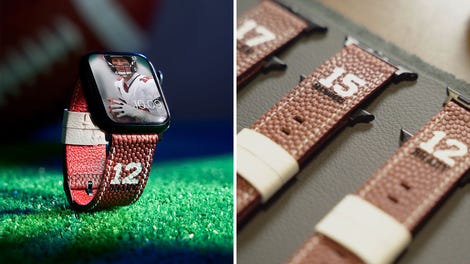 Official NFL PRODUCTS
Official NFL Apple Watch Bands

100+ amazing pieces of Star Wars concept art
You can't celebrate the awesomeness of concept art without paying special tribute to Star Wars. Ralph McQuarrie's paintings for the original trilogy inspired every concept artist today, and the prequels and video games' art was eye-popping. Here are our favorites.

Tips from professional artists on the 5 things you need in your digital art toolbox
You want to start doing art and design work on your computer, but what are the tools you need? We got professional Hollywood concept artists to tell us - and their answers won't drain your wallet too much.

The psychokinetically gorgeous animation of Akira
Remember that awesome "Art of Akira" show that's now open in Pittsburgh? io9 caught up with its curator, Joe Peacock, who gave us the scoop on the exhibit's history and allowed us to showcase some of its best cels.


The mind-bending treasure trove of Stanley Kubrick's concept art
If you think Stanley Kubrick's films are mind-swirling in their weirdness, just check out some of the reams of concept art his teams generated. Dream sequences, bridges leading into women's faces, and innerspace astronauts await below.

They built Pandora: The ultimate guide to Avatar's designers
Long before you watched Jake Sully leave his body and enter a world of warriors and dragons, dozens of super-talented designers were pulled into James Cameron's imaginary world. We interviewed 17 Avatar designers, and here's everything they told us.

How to break in as a Hollywood concept artist: Artists share their secrets
Working as a concept artist is one of the coolest careers you could possibly imagine. You get to paint pictures of spaceships and heroic battles, and imagine strange new worlds. How can you get in on this action?
Exhibit A for concept art that's cooler than the finished product

When you look through Miles Teves' online concept art portfolio, it's hard not to feel sad about how cool Terminator 3 and Terminator Salvation, plus a Dune movie, could have looked. And his design for Spider-Man's Goblin is clearly superior.