Sick of your dog or cat constantly needing to be fed, walked and cared for? Goodbye needy pets of today, hello Genpets: Your new bioengineered best friends from Bio-Genica. They're allergen free, child safe, and best of all, low maintenance. Run, don't walk, to the store and pick up your hibernating pet now.
G/O Media may get a commission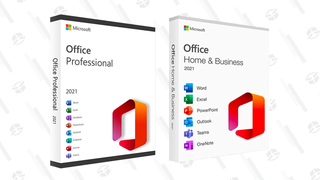 89% off
Microsoft Office Professional 2021 Lifetime License
The GenPets come in a variety of personalities and can be purchased with a one or three-year life span. The Genpets personalities are color coded: Red - Athletic and energetic Orange- Adventurous, confident and curious Yellow - Playful and fun Green - Helpful, harmonious and peaceful Blue - Communicative and serene Violet - Imaginative and spiritual The website has a run-down on every possible question you could have for these adorable little monsters. Do they bite? No, but Bio-Genica will provide you with their patented teeth-removers. The little tykes "wiggle" walk around and have the mobility of an infant. They are fully grown in the package and only need to be fed once a week. The Genpets won't make a lot of noise, since they don't have such powerful vocal chords. From Bio-Genica:
"GenPets™ are mass produced Bio-engineered pets implemented today. Each pet comes pre-packaged as a fully self-contained unit. GenPets™ learn and adapt. They are fully living pets, but better, modified to be as reliable, dependable and efficient as any other technology we use in our busy lives."
Obviously this isn't an actual reality but an art piece created by Adam Brandejs, who's just trying to warn us of the future, or make us think about it a little. The piece has been circulating for some time now, but is still one of the best scifi pieces of art from the 00's, in my humble opinion. [GenPets via Geekologie]