Evangelist Aimee Semple McPherson became a superstar after founding her church in 1923 Los Angeles; her Foursquare Gospel teachings still have millions of followers today. But she made her mark on history beyond religion, too—by mysteriously vanishing for five weeks at the height of her fame.
It happened in May 1926, when the 36-year-old had already been a bona fide celebrity for years. And it had been a hard road to get to that point—her early life had been anything but easy.
Born in Canada, she'd married Irish Pentecostal preacher Robert Semple after meeting him at a revival when she was just 17. They'd been married only two years when Robert died after coming down with malaria and dysentery while the couple was on a missionary trip to Hong Kong. Aimee—a 19-year-old pregnant widow—headed back to America to live with her mother. In New York, she gave birth to a daughter and met the man who'd be her second husband, and the father of her son: Harold McPherson.
That marriage lasted slightly longer, but ended in divorce, and Aimee was single again by the time she was 23. She married again much later in life, but it was after she'd split with McPherson that her ascent to nationally-known religious icon really began.
According to her official biography on the Foursquare website, God told Aimee to head to Los Angeles in 1918. In 1922, she became the first woman to preach on the radio. An alleged faith healer with a talent for speaking in tongues, she presented her sermons with a theatricality that audiences found irresistible. By 1923, she had built Angelus Temple, a prototype "megachurch" which had a capacity of over 5,000—and, the Foursquare bio notes, it was always packed whenever Sister Aimee took the stage. She had hit the big time in LA, right at the moment that "movie star" was also becoming a career descriptor; she may not have been an actor in the conventional sense, but Aimee was certainly at home in the spotlight.
G/O Media may get a commission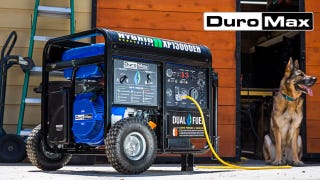 Black Friday Sale
DuroMax Generator Sale
Here's a clip of Sister Aimee holding forth on Prohibition:
But even the most glowing write-ups about Sister Aimee pause to include those bizarre five weeks in 1926. Where did she go? The faithful held fast to her version of the story: she was kidnapped. Here's how her Foursquare bio explains it.
On May 18, while working on a sermon at Ocean Beach, Sister Aimee decided to go swimming. When she came out of the water a couple asked her to accompany them to their car to pray for their dying baby who was in the back seat. This was not unusual; Sister Aimee made herself available to minister to people whenever and wherever she was called to do so. Upon leaning into the back seat she was pushed to the floor and sedated as the car drove off. A taxi driver saw the kidnapping as it happened and later told the authorities.

Most everyone believed that Sister Aimee had actually drowned however, and when ransom letters came in from the kidnappers, the letters were thrown away because her family thought she was dead! For three weeks Sister Aimee was kept in the Los Angeles area, and then, in mid-June, the kidnappers moved her to a small shack in an isolated canyon in Mexico just south of Douglas, Arizona. When the kidnappers left her alone but bound with rope for several hours while they drove off to buy supplies, she escaped and walked through the night to Douglas where she was entered into the hospital.
At the time of her disappearance, she was as popular as Princess Diana was during her life. And her followers were just as devoted as Diana's; one man actually drowned during the search, believing he'd spotted her body in the waves (it was actually a dead seal). A rescue diver also died during the search.
Others, however, were not so convinced by this tale. One Sister Aimee expert shared a different version of the story with the BBC:
Biographer Matthew Sutton believes she had run away with her sound engineer - a married man called Kenneth Ormiston, who also disappeared at the same time. "I'm 99% confident that she had an affair," he says.

"I suspect she ran away with Ormiston then ultimately after a month reading the newspapers and seeing what was happening she decided to make this dramatic return. The kidnapping story was the best means she came up with for doing it."
She would have read in the papers that—in addition to those who assumed she was dead—there were Sister Aimee sightings everywhere. Finally, on that fateful day in Douglas, the real Sister Aimee was found. Her return to Los Angeles attracted an adoring crowd estimated at 50,000, but as the Smithsonian notes, she also attracted her share of skeptics:
Within two weeks, McPherson voluntarily appeared before a grand jury as newspapers continued to trumpet accusations of fraud, accompanied by witness "spottings" in Northern California. Gaining the most traction was a story that centered on the fact that Kenneth Ormiston, a married engineer at the Christian radio station KFSG (owned by McPherson's church) disappeared just when McPherson did. The two worked together on McPherson's regular broadcasts. Police were dispatched to a cottage in Carmel-by-the-Sea, where Ormiston had been seen with an unidentified woman during McPherson's disappearance. (Ormiston admitted to having an adulterous affair at the time of McPherson's disappearance, but denied that the stranger known as "Mrs. X" was her.) After dusting the cottage for fingerprints, however, police found none that matched the evangelist's.

The headlines, gossip and innuendo continued throughout the fall, until a judge determined that there was enough evidence to proceed with the charges of conspiracy and obstruction of justice against McPherson. A jury trial was scheduled for January the following year. However, [LA district attorney Asa Keyes] had begun to determine that some of his witnesses were unreliable, and he decided to drop the charges.
It was a scandal of Jim and Tammy Faye Bakker proportions (probably even bigger). Notably, nobody was ever a suspect in, or charged with, her kidnapping, and the notoriety made her even more well-known than she was before. Though her celebrity status eventually faded as time passed, her ministry continued to grow, and she had a few more minor scandals along the way, including a 1931 "nervous breakdown" that her own mother (with whom she feuded for years, along with her own daughter) suspected was actually downtime needed to recover from a facelift; later that year, she married her third husband, but they soon divorced. In 1937, she was "sued for slander" by one of her assistant pastors, who settled for just $2,000 of the over $1 million she was asking for.

Sister Aimee died just one year after the below photo was taken, days short of her 54th birthday, in 1944. According to her obituary in the Los Angeles Times, she was found in an Oakland hotel room by her son; the pair was in town to help dedicate a new church, but she never got to deliver her keynote speech: "The Story of My Life."
At first, it was suspected she'd succumbed to a heart attack, but an autopsy revealed she'd overdosed on sedatives, apparently an accident.
From top: Aimee Semple McPherson in London, England, April 18, 1928; McPherson during Sunday night service at Angelus Temple, in Los Angeles, June 14, 1943. (Both AP Photo)