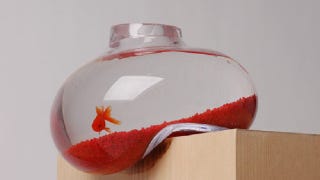 Because, really, what's the point of owning a fish tank if your pets aren't in constant mortal danger?
The Bubble Tank, by Psalt Design, is constructed from hand-blown glass and incorporates a counter-weight to maintain the bowl's perilous position on desks and shelves. Inspired by the shape of a bead of water as just before it flows over an edge, the molten shape is designed to make the tank itself the focus of a room, rather than its finned residents.
UK residents can pick up the Bubble Tank at the Design Event Mart running through tomorrow, October 18, 2011. Psalt Design has created molds for mass producing the tanks but there's still no word on when they'll be available. [Design Event via Design Milk]
---
You can keep up with Andrew Tarantola, the author of this post, on Twitter, Facebook, or Google+.