Bringing a child to term costs more in America than anywhere else on Earth, according to today's New York Times.
According to a survey conducted by Truven Health Analytics on behalf of the NYT, charges for delivery have about tripled in the U.S. since 1996.
An additional report from Truven found that between 2004 and 2010, the prices that insurers paid for childbirth rose just shy of 50% for vaginal births and 41% for Caesareans. Average out of pocket costs rose fourfold. The average total price charged for pregnancy and newborn care was found to be about $30,000 for a vaginal delivery and $50,000 for a C-section. (Commercial insurers cover an average of $18,329 and $27,866, respectively.)
G/O Media may get a commission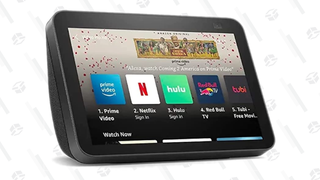 Above chart via The New York Times, adapted from the International Federation of Health Plans 2012 Comparative Price Report. Below are international physician fees for C-section and vaginal births, taken straight from the iFHC report.
These are just a few of the astonishing statistics about the cost of pregnancy in America cited in the front-page feature from today's New York Times. If you haven't read it yet, do. It's overflowing with anecdotal zingers like this:
When she became pregnant, Ms. Martin called her local hospital inquiring about the price of maternity care; the finance office at first said it did not know, and then gave her a range of $4,000 to $45,000.
And revelations such as this [emphasis added]:
Only in the United States is pregnancy generally billed item by item, a practice that has spiraled in the past decade, doctors say. No item is too small. Charges that 20 years ago were lumped together and covered under the general hospital fee are now broken out, leading to more bills and inflated costs. There are separate fees for the delivery room, the birthing tub and each night in a semiprivate hospital room, typically thousands of dollars. Even removing the placenta can be coded as a separate charge.
The piece, written by Dr. Elisabeth Rosenthal, is all the more shocking in light of a recent report that found the U.S. to have the highest first-day infant death rate in the industrialized world (this news comes even after a report from the CDC that claims infant mortality rates declined steadily in the U.S. from 2005 to 2011), and one of the highest maternal death rates. Via Save the Children's State of the World's Mothers 2013 Report (emphasis added):
Only 1 percent of the world's newborn deaths occur in industrialized countries, but the newborn period is still the riskiest time, no matter where a baby is born, with the first day being the riskiest time of all in most, if not all, countries. The United States has the highest first-day death rate in the industrialized world. An estimated 11,300 newborn babies die each year in the United States on the day they are born. This is 50 percent more first-day deaths than all other industrialized countries combined.
Finland ranked first out of 176 nations in Save the Children's "Mothers' Index" (the U.S. ranked 30th). The country was recently praised far and wide for its habit of administering federally funded "maternity starter kit" boxes to all its new parents. Each box contains clothes, sheets and toys and can even be used as a bed, which is reportedly why so many Finnish babies sleep in cardboard boxes. It's a tradition that dates back to the 1930s, when the country was plagued by an abysmal infant mortality rates (at the time, roughly 65 out of every 1,000 newborns died).
Chart via BBC
Infant mortality rates dropped so dramatically that in 1949, the Finnish government expanded the program to include all expectant moms. Today their infant mortality rate is 3.38 out of 1,000. In America, the rate is still 5.9 out of 1,000.
Maybe the answer is all-inclusive childbirth rates (a solution proposed by California-based policy group Catalyze Payment Reform). Maybe the answer is an increased presence of midwifes. Whatever the answer is, America could sure as hell use its own version of Finland's Maternity Starter Box. And it would be awfully nice if that version involved charging less than $9,700 for the birth of a child.
Go read Dr. Rosenthal's piece in The New York Times.