Desktop computing may be dying, besieged by ultrabooks and tablets, but that doesn't mean people aren't still loving their crazy desktop setups. Here are the very best ones—located in the homes of artists, musicians, engineers, mad gamers and people who just love computers—compiled from readers' submissions and hours of searching.
It's the definitive collection.
---
Stefan Didak's home office desktop.
Photo: Stefan Didak
---
Dlinc's awesome artist station, including a Wacom Cintiq tablet. A classic updated.
G/O Media may get a commission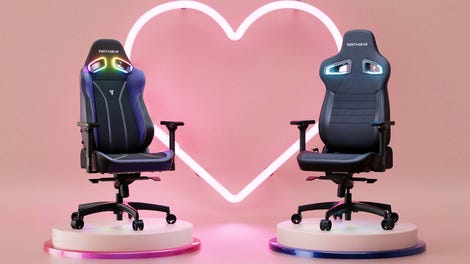 Up to $150 off
Vertagear Gaming Chairs
Photo: Dlinc
---
Steve Price's home spaceship cockpit.
From Steve: "The muscle behind these nine monitors comes from three computers stored in a custom built cabinet. The primary computer is an Intel core i7 965 4GHz with 12GB DDR3 RAM, three nvidia 285′s, and a 1TB WD hard drive. The other two computers are a core 2 quad 3GHz with 8GB DDR2 RAM and a core i7 920 3.2GHz with 12GB DDR3 RAM. The monitors pictured above are three Samsung 2433bw 24″ LCD monitors, three Hanns-g Hi221D 22″ monitors, one Velocity Micro 22, and a generic Westinghouse 24″. The clock monitor is used for the server which carries a whopping 18TB of storage." Photo: Steve Price
---
Paul C.'s desktop computer is not that insane. But look at what's around it.
---
Wlodi's home plane. Serious virtual pilots run six-monitor flight simulators running on a computer with four CPUs like this one.
---
Steve's setup to rule the world. Yes, this is a home office (Steve must be some computer-obsessed hedge fund manager).
---
Steven Larson's setup seems like a movie set for a movie about hackers, but it's just his home's computer rig.
---
Jayson's old school chaotic setup gives me seizures just by looking at it.
---
Gamite's home office. All those monitors and he still needs Post-Its.
---
Mike Bepko's simple setup for very lazy people. So lazy they don't even use keyboards.
---
Have your own favorite? Did we forget any awesome setup? Post the picture in the comments!
Image curation by Attila Nagy