In the future, your merit as a street thug will be based on the swift moves you bring to the back alley illegal Dance Dance Revolution fighting game. So does it work, or is it still just dance fighting?
Turbo
Twilight star Justin Chon plays a futuristic burger flipper by day, Dance Dance Revolution fighter by night, in the short film Turbo. The film was created by a USC student Jarrett Lee Conaway, and it's completely ridiculous in concept but actually very well done (The trailer and short are both below). Chon's character is Hugo Park and he's Dance Dance fighting not for glory but to fix his wheelchair-bound brother's back. He's a Dancing warrior with a heart of gold! The site describes it as a mix of Karate Kid and Tron, and it's pretty spot on... Not to mention, better acted than the Chun-Li film. Check it out.
It tells the story of Hugo Park (Justin Chon, Twilight) a misspent youth whose only outlet for angst is a 4D fighting videogame called "Super Turbo Arena". When Pharaoh King (Jocko Sims, Crash the Series), the Michael Jordan of cyber-sports, announces a tournament to determine who will join his pro-team, Hugo's sets his eyes on the prize. But, Hugo isn't the only gamer who wants fame and glory. If Hugo wants to win he's going to have to beat Shamus (David Lehre, Epic Movie), the all time Turbo champ at the local Pandemonium arcade, and Ruse Kapri, a feisty prep girl that knows how to win. Realizing he can't win on his skill alone, Hugo turns to his brother Tobias a former kick-boxer whose last match left him wheel-chair ridden. Together the two will mend old wounds and see if a washed up street fighter can teach a troubled teen how to become a virtual gladiator!
Turbo: Trailer from Jarrett Lee Conaway on Vimeo.
G/O Media may get a commission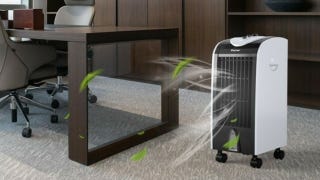 Save $10
Evaporative Portable Air Conditioner Cooler with Filter Knob
TURBO from Jarrett Lee Conaway on Vimeo.
The Scout
Giant snakes of injustice threaten this adorable tribe of Boy Scout-looking students. I'll watch anything with a giant snake in it. Seriously, anything.


Genesis
This fast moving X-Files meets Fringe Mexican movie has very little information out there, but the trailer is beautiful. This story centers around the employees of Owal Tec Paranormal Activities who investigate paranormal happenings around the globe.

SERES, Génesis - Film Trailer from IrinaMix on Vimeo.