The Game of Thrones TV show is already a stunning adaptation of George R.R. Martin's A Song of Ice and Fire books, but people have been imagining the world of Westeros in their own style since long before the show aired. Here are some of our favorite fan artists inspired by both the books and the TV series.
Quick note: Embedded images seem to be disagreeable at the moment. Trying to fix it. In the meantime, click on the links to check out the different artists' works!
Just a heads up: There will be spoilers through Season Four of Game of Thrones. We'll be avoiding spoilers that go beyond that in this post, but there may be some A Song of Ice and Fire book spoilers in the artists' galleries.
Artist Josu Hernaiz (Facebook) has some stunning paintings of Littlefinger, Sansa Stark, and Daenerys, but we're rather tickled by his gruesome portrayal of King Joffrey's demise:
G/O Media may get a commission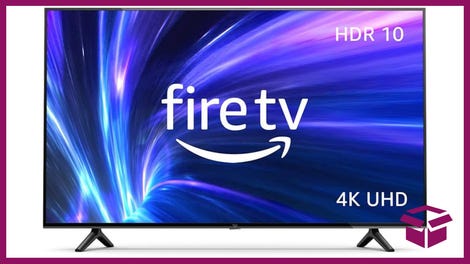 42% Off
Amazon Fire TV 50" 4K Smart TV
Eva Maria Toker (Facebook) has tackled some moments and characters that haven't appeared in the show (at least not yet), but she has also painted another of the show's grisly deaths, giving the desecration of Robb Stark's corpse an almost classical feel:
kallielef is one of my very favorite Game of Thrones fan artists, because she uses such dramatic lighting to pull you into the scenes and portraits she creates. For example, this moment with Arya and the Hound:
And this one with Sansa and Shae:
She also has tons of color pieces in her Game of Thrones gallery, so go check it out.

Matias Bergara does these wonderfully expressive ink and watercolor renditions of the different characters. You can grab prints and other products from his RedBubble shop.
Here's his Brienne of Tarth:
And his Tyrion Lannister:
Magdalena, who goes by bubug on deviantART, creates digital illustrations that look almost like engravings. She has a particular affinity for pieces featuring Sansa and the Hound:

winterfell by bubug on DeviantArt
But she has also created a rather hilarious family portrait of the Lannisters as the Addams family:

The Lannister Family by bubug on DeviantArt
René Aigner (Facebook) has done some professional Game of Thrones illustrations for The World of Ice and Fire. You can see his pieces from the book — Harwyn Hardhand, East of Ibb, and The City of Asshai — on ArtStation, but he's also created his own A Song of Ice and Fire paintings, including this imagining of Daenerys at the Iron Throne, titled The Rightful Queen:
Azim Al Ghussein (Tumblr, Instagram) has been doing some truly fun character portraits, with a great deal of emphasis on costume design. He has a full series of the Ladies of Ice and Fire in his Behance gallery, but lately, he's been posting portraits of the men:
Serena Malyon makes these tall, narrative illustrations that tell various stories from A Song of Ice and Fire in a single image. You can buy prints from her Society6 shop. This one is called "The Things I do for Love" / Bran's Dream:
She also has another piece in this style about Arya, titled Valar Morghulis, but it's a bit spoilery if you're not caught up on the books.
Kay Huang (zippo514 on deviantART), has a ton of images in his Game of Thrones gallery (including a couple of possible spoilers) capturing both landscapes and big, bloody moments:

Giant of Lannister by zippo514 on DeviantArt

The Red Viper by zippo514 on DeviantArt
illatte (aprilis420 on deviantART) has made a handful of Game of Thrones images, but the best ones add a bit of beauty to menacing moments:

Bran Stark by aprilis420 on DeviantArt

Targaryen by aprilis420 on DeviantArt
Dejan Delic's (Facebook) stylized renditions of the characters are bursting with color:

Eddard Stark by dejan-delic on DeviantArt

Doran Martell and Areo Hotah by dejan-delic on DeviantArt
And Danielle Storey has several lovely pieces of fan art, but perhaps none is so perfect as her Daenerys portrait Mhysa, homage to Leonardo da Vinci's Virgin of the Rocks:

Mhysa by fresco-child on DeviantArt
Now you tell us: What Game of Thrones fan artists make your eyes pop out of your head?