When does Spider-Man enter the scene in Civil War? Mads Mikkelsen teases his allegiance in Rogue One. Get a better look at Connor Hawke on Legends of Tomorrow. David Duchovny wants more X-Files. Plus, Ronda Rousey sets her sights on another nerdy movie role, and get a look at Agent Carter's wild dream sequence. Behold, Spoilers!
Captain America: Civil War
A few more tidbits out of this week's Empire Magazine, for which Civil War is the cover story, have hit the internet. WhatCulture has gathered up a few, including scans of some of the images included in the magazine—including the fact that Spider-Man does not make his presence felt in the movie until after the lines of Team Cap and Team Tony have been drawn (at which point he "forms a relationship with one character"), and the fact that the film will have a"very dramatic ending that will be controversial for a lot of people," according to Anthony Russo. Head on to the link to see more.
Meanwhile, a high-res picture of Frank Grillo's Crossbones has been released—and despite the fact we have seen the character in countless set photos, its actually our first official look at the character in this film. There are also two new pictures of Scarlet Witch in her new costume, and Steve and Tony having a disagreement. [Empire]
G/O Media may get a commission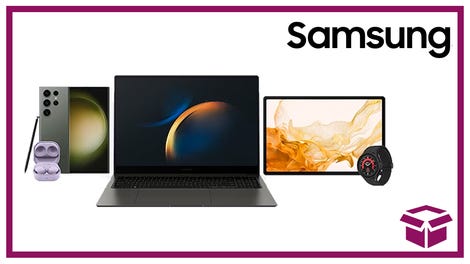 24 hour deals
Discover Samsung - Daily Deal
---
Star Wars: Rogue One
Speaking to a Danish news site, Mads Mikkelsen briefly teases his character's allegiance in the movie:
No, my character is actually not a bad guy.
---
Death Note
According to producer Roy Jones, the Western adaptation of the anime/manga will be aiming for an R-rating:
It's definitely for adults. It is zero chance it will be below an R-rating...

[The film] will be one of the first manga adaptations that feels very grounded but still has fantastical elements.
[Collider]
---
Metroid
After spending months campaigning for the chance to become Carol Danvers in Captain Marvel, UFC fighter Ronda Rousey has set her eyes on another female hero: tight-lipped bounty hunter Samus Aran, in a hypothetical adaptation of Nintendo's classic series Metroid:
I've always wanted to be Samus. That would be badass. I love how people found out later that it was a hot chick on the inside. And then most of the day you're in a suit, so you can just hang out and eat donuts and be the star of 'Metroid.' I hope they make a movie out of that.
[Gamespot]
---
Alice Through the Looking Glass
Here's a new promo for the film.
---
xXx 3
Vin Diesel has posted a few new pictures from filming to his Instagram account.
---
Batman v Superman
Here's three new character posters for Alfred, Lex, and Lois. [CBR]
---
Marvel's Most Wanted/Agents of SHIELD
ABC's on-again, off-again pilot, based around Bobbi Morse and Lance Hunter, is on again, and it has a new log line. And it teases a world where Bobbi and Lance are on the run with no one to trust, or "no SHIELD" to help them.
Centers on Bobbi Morse (a.k.a. Mockingbird) and Lance Hunter of "Marvel's Agents of S.H.I.E.L.D., two ex-spies and ex-spouses who are on the run with no friends, no S.H.I.E.L.D. and a long list of enemies looking to claim a bounty on their heads. Able to trust no one but each other, Bobbi and Hunter form an uneasy alliance with Dominic Fortune, a rogue adventurer with a wealth of resources and even more adversaries, who agrees to protect them so long as they help him with his own agenda. These two heroes will help anyone in need, all while trying to uncover the conspiracy that put their own lives in jeopardy.
Could the third season of the show end with SHIELD either incapacitated (and Bobbi and Lance separated from their comrades) or outright in tatters again? [Deadline]
---
The X-Files
Unsurprisingly, David Duchovny tells Ellen he's open to doing more of the show following the success of this "event" season:
Yeah, I think we're all open to it. It's just a matter of getting everyone's schedules to jive. Gillian lives in London. I live... I don't know where I live. I live somewhere. Chris lives here [in California].

I would love to. I think we all would. We'll see what happens.
---
Legion
Amber Midthunder has joined the show as Kerry, a young woman "with a childlike sense of wonder." Described as a savant by Deadline, she has also "lived a sheltered, but never dull life."
---
Time After Time
Josh Bowman has been cast in this H.G. Wells time travel series as John Stevenson, a surgeon who secretly lives a double life as... Jack the Ripper. [Complex]
---
Supergirl
Here's the brief synopsis for episode sixteen, "Falling".
KARA TURNS ON HER FRIENDS AND THE CITIZENS OF NATIONAL CITY AFTER BEING EXPOSED TO RED KRYPTONITE MAKES HER MALICIOUS AND DANGEROUS, ON "SUPERGIRL," MONDAY, MARCH 14

The Hosts of CBS Daytime's "The Talk" Guest Star

"Falling" – Kara turns on her friends and the citizens of National City after being exposed to Red Kryptonite makes her malicious and dangerous. Also, Cat appears on THE TALK to discuss Supergirl, on SUPERGIRL.
---
Legends of Tomorrow
A gallery of pictures from "Star City 2046", focusing on the arrival of Connor Hawke on the show, has been released. You can find more at the link. [Comicbook.com]
---
Agent Carter
Finally, some teaser images of the show's upcoming dream sequence (featuring dancers from Dancing with the Stars and the return of Lyndsy Fonseca) have been released by TV Insider. Yes, it's the picture of James D'Arcy in a top hat you've been waiting for. [TV Insider]
---
Additional reporting by Gordon Jackson and Charlie Jane Anders. Image: Agents of SHIELD.