One of the best parts of returning to the galaxy far, far away in Star Wars: The Force Awakens was finally getting a chance to see how a new generation of filmmakers would approach the franchise's vehicles and technology.

We've known for some time now that we'd see much more of the terrifying (and stylish) First Order in December's The Last Jedi, but now we get to see more imaginative new ships it'll use to try and stamp out Rey, Finn, Poe, and the rest of the Resistance. You wouldn't think that a ship shaped like a piece of pizza or that an AT-AT that walks like a gorilla could invoke a sense of doom and terror, and yet—as revealed on on today's installment of the The Star Wars Show—that's exactly what happens.
The AT-M6 (All Terrain Megacaliber Six) is every bit the the AT-AT we're accustomed to seeing, only now rather than walking on all four limbs like a quadruped, its front two legs are fashioned much like a gorilla's. The mech places the bulk of its weight on its front "knuckles," which suggests a unique kind of mobility in unsteady terrain, in addition to the idea that we might see this thing rear up and punch an X-Wing out of the sky.
The First Order's Dreadnought is described a a huge-ass "mandatory 4-class warship" with gargantuan auto cannons designed to obliterate its targets with an onslaught of fire. That sounds great and all, but let's be honest: it looks like a piece of pizza. Moreover, it clearly owes a lot to the classic Star Destroyer design.
G/O Media may get a commission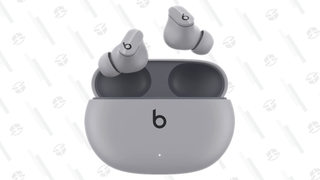 This is exactly the kind of weird, fanciful nonsense you want to see from an intergalactic organization of fascists, and it's all the more reason to get even more excited about The Last Jedi. Check out the full video below.