When we last left Arthur Everest and his indefatigable crimefighting partner the Tick, they were all abuzz with the tingles of life-threatening danger and possible dissociative fugue. The second part of the series' first season sees the boys getting a much better grip on what's real—just in time for reality to try and kill them.

Amazon's reboot of The Tick started off slyly ambitious. Its first few episodes kept viewers guessing as to whether the titular character was corporeal or not, as well as giving us an Arthur on the brink of an apparent emotional collapse. Despite the support of his big blue companion, Arthur got overwhelmed by the twists of fate at every turn of his life. The back half of the season, which became available today, sees Arthur gaining in confidence, while all of the characters growing in poignant and unexpected ways.

The biggest change in episodes 7-12 happens when archvillain the Terror resurfaces, proving Arthur's suspicion about the not-dead bad guy wasn't just unresolved childhood trauma. The Terror plans to announce his still-alive-ness with a intricate sinister plot that involves killing alpha-hero Superian. As they try to figure out the dastardly details and gather up allies, Tick and Arthur come to blows with new bad guys and their own issues.

These episodes continue the trend of canny subversion established in The Tick reboot. So, Arthur's escape from the Terror's lair has funny moments where he doesn't quite know how to incapacitate the unaware guard he needs to get past. And when his sister Dot demands to be part of the effort to thwart evil, her wish gets fulfilled with no hoary, clichéd objections. These little touches maintain the impression that the series' creative team is winking at an audience that's all-too-familiar with the genre conventions of a superhero saturated moment.

Meta-awareness informs the Tick's journey, too. While the big guy still seems blissfully nonplussed about real-world ubiquities like ride-sharing—"What's an Uber?"—his angst over his unremembered past becomes a major theme. He still knows what he's here to do, which is punch evil in the schnoz, but the Wild Blue Yonder gets increasingly befuddled as he interacts with more people and things.
Without Arthur, he's just undirected energy. Arthur, meanwhile, gets a clarity of purpose from the Tick that cuts through all his insecurity and doubt. There's still wacky stuff aplenty like mad scientist Dr. Karamazov, the Terror's drum solos, and the massive nakedness of the Very Large Man. But the goofy, tender symbiosis between Tick and Arthur is the epicenter of this series, sending out ripples throughout the rest of the cast. Even grizzled gun-happy vigilante Overkill sees some emotional growth.
G/O Media may get a commission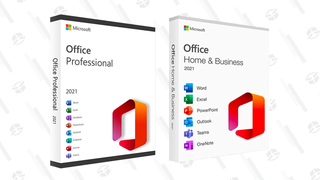 89% off
Microsoft Office Professional 2021 Lifetime License
The new Tick plainly reminds us that real heroes should care about more than their own messed-up psychologies, a theme that's emphasized here much more than in previous iterations of Ben Edlund's creation. They care about each other and about people who need help, which is a welcome reminder in times when the world feels increasingly grim and uncaring. This Tick still has all the one-liners and absurdity that made it a cult favorite, but it also feels more human than ever before.

Episodes 7-12 of The Tick are available starting today on Amazon Prime Video.