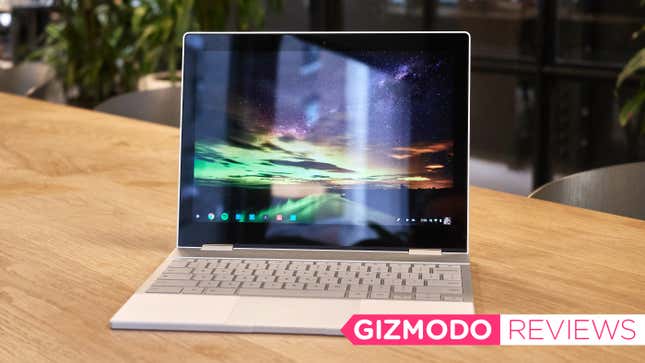 I had to change how I think because of Google's new $1,000 Pixelbook. This gorgeous 2-in-1 is some of my favorite hardware for the price, but it's loaded with Chrome OS, the worst operating system you could put on your computer. If you've grown up a power user of MacOS, Windows, or Linux, then Chrome OS feels like getting cut off at the knees, and hardware can't possibly distract you from how hamstrung Chrome OS is compared to its more mature competitors. So in order to not spend another Chromebook review complaining about the severe inadequacies of Chrome OS, I decided to think like an ideal Chrome OS user. It was worse than that time I tried to stop drinking sodas, but as painful as living a wholly different existence was, it made one thing very obvious: If you are an ideal Chrome OS user, this is the very best laptop you can buy.
Meet Microsoft's New Surface Laptops
So what is an ideal Chrome OS user? Google points to young people whose first computing device was a mobile phone instead of a Powerbook 520c. Their first interaction with Photoshop was an app on their Android or iOS device. The first games they played were simple mobile ones like Fallout Shelter or Asphalt 8. They don't know the joy of overly tweaking an operating system with Quicksilver or Alfred, or modding the user interface with Rainmeter. For this new generation of computer users (IDC claims 58 percent of schools use Chrome OS devices) the computer isn't a tool, it's a portal to the internet and everything beyond.
And when you understand those two big things about potential Chrome OS users—that they view computers as portals the wider world and that they are more familiar with mobile apps, Chrome OS feels like a dang nice operating system.
Last year, Google began to officially implement Android apps in Chrome OS, and early this year Google began to take that implementation seriously, working with app developers to better support Android apps in Chrome OS. It was clunky at first because the Android apps were frequently not prepared to resize to the resolution of chromebooks like the Samsung Chromebook Pro. There's been improvement on that front, and now when I open apps like Adobe Lightroom and Comixology, I feel like I'm opening an application native to Chrome OS instead of a supersized app from my phone.
It's a crucial distinction that helps Chrome OS feel a little more mature—even if it still isn't the powerful content creator that Windows, Linux, and macOS are. It's more like an iPad, only with a design intended for typists first.

The first thing you notice about the Pixelbook is just how well-designed the hardware is. Every single person I tossed it to would obsess over how thin it was (just 0.4 inches thick), and how light it was (2.4 pounds). There's a solidness to the metal and glass design that doesn't leave you worried if it falls off the bed onto the floor or gets shoved in your bag and jostled around on the subway. The keys have a slightly rubbery feel when you press down that is soft and pleasant without feeling mushy, and the glass trackpad works as well as any you'd find on a MacBook.
And because it's a chromebook, and uses the ultra lightweight Chrome OS, there's no need to cool the processor with fans, so it's completely silent and never gets too hot. In that way, it's a bit like an iPad. In fact, with the touch display, 360-degree hinge, and all the Android apps, the Pixelbook frequently feels like a tablet itself. So comparing it to an iPad seems super natural. That device is also a mobile-first machine for a younger generation of computer users, and while it's a tablet, Apple has pushed the iPad Pro as a computer alternative for people who want an Apple device but don't want to pay the $1,300 or more required to get a good device running macOS.
But the Pixelbook is noticeably more powerful than an iPad, which uses a completely different operating system and processor type. It's even more powerful than the Samsung Chromebook Pro, with configs ranging from the $1,000 Pixelbook configured with a 4.5-watt seventh-generation i5 processor, 8GB of RAM, and a 128GB SSD to the $1,650 Pixelbook configured with a 4.5-watt seventh generation i7 processor, 16GB of RAM, and a 512GB NVMe SSD (that means it reads and writes data faster). The $550 Samsung Chromebook Pro, by comparison, uses the previous generation's processor, and the much slower m3 version at that. It's also got only 32GB of storage and just 4GB of RAM. That means it's way slower, can store far fewer apps, and because of the RAM limitations, it will struggle with multitasking versus the new Pixelbook.

Both Samsung and Google's chromebooks rock 12.3-inch displays with 2400 x 1600 resolution, a stones-throw from the iPad's 2732 x 2048 12.9-inch display, but the Pixelbook is far faster than either. In WebXPRT, which benchmarks a computer by testing how well it edits images, creates spreadsheets, and processes complex equations in a browser, the Pixelbook scored a 453—right in line with devices like the Macbook Pro, LG Gram 14, and even the recent Razer Blade Pro. The Samsung Chromebook scored a 267 while the iPad managed only managed a 232. And on Geekbench 4, a synthetic benchmark that runs as an Android app on Chrome OS, the Samsung Chromebook had an iPad-like single core score of 2571 while the Pixelbook had a laptop-like 4168.
Those exceptional benchmark speeds are immediately noticeable in just day-to-day browsing. I can have twenty tabs open on the Pixelbook, with Fallout Shelter running in the background and Netflix running in the foreground with no lag. The Samsung Chromebook always choked in a similar scenario, and iPads simply don't multitask at that level.

Battery life is a little less thrilling. When streaming a YouTube video it averaged about eight hours and 53 minutes—even the latest 13-inch MacBook Pro lasted 11 hours and ten minutes on the same test. But while it doesn't have the best battery life when watching movies for hours on end, it's still more than enough for regular web browsing. With basic use, I often went well into my second work day without reaching for a USB-C charger.
Where the Pixelbook really falters is with regards to the pen. Doing art on a Chromebook might be appealing, but between the $100 price tag on the Pixelbook Pen and the slight delay between pen stroke and pen render I noticed on every single app I used, it just doesn't seem worth it. If this is the only device you have and you absolutely need to draw or take handwritten notes, then do it—with practice you'll be able to adjust to the lag, but an iPad would definitely be easier to use.

Yet the Pixelbook does have a trick that the iPad and the Samsung Chromebook (which includes a dinky little stylus) do not. This chromebook has Google Assistant built in. It's not just like Siri in an iPad, where you long press a single button. On the Pixelbook there's a dedicated button to launch Google Assistant. Once launched, it works just as it would on your phone or a Google Home, and if you have the Pixel Pen, you can use it to circle words or images on your computer and have Assistant immediately search the web for them. The feature doesn't feel like a fundamental alteration to how we interact with our computers, but if you're used to working on a mobile device and asking Siri or Google inane questions its now just as easy on a chromebook.
And when you consider the Pixelbook as the souped up next step for a person who primarily computes on their phone, it's absolutely wonderful. If you've ever stood in Best Buy and seriously considered an iPad versus a chromebook or laptop, then stop. Go buy the Pixelbook, it's the superior device for you, balancing the need to write with the need to consume nearly perfectly.

And it's almost the superior device for power users like me. While I hated that I had to change my photography workflow on the Pixelbook (there's no CaptureOne available and the mobile version Photoshop is worthless compared to the macOS and Windows version), I sometimes didn't care. When I was rewatching Halt and Catch Fire last weekend, it was the Pixelbook I reached for to idly play games, read comics, and google weird milestones in computer history. The Pixelbook still costs a not insignificant $1,000, but that's okay. This is the best possible device you can currently get for Chrome OS, and it actually feels like it's worth it.
README
This thing is very fast.
Battery life is acceptable, but could be better.
The design is really, really nice.
Seriously, there are few devices you'll hold in your hand that feel as nice as this one.
It's still Chrome OS, so don't complain when you can't edit a movie.
Spec Dump
Intel i5-7y57 • 12.3-inch LCD • 2400 x 1600 at 235ppi • 128GB SSD • 8GB of RAM • 11.4 x 8.7 x 0.4 inches • Bluetooth 4.2 • 802.11ac • 2 x USB-C • 3.5mm audio out