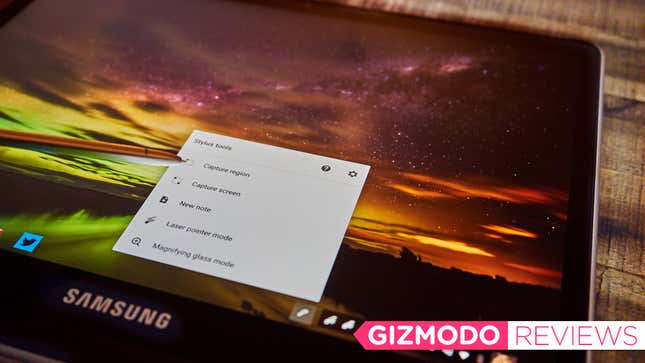 I was working on the new Samsung Chromebook Pro, furiously putting together a post that needed to go up stat. The final touch was an image, but I needed to edit it, and I didn't want to reach for my normal work machine. So I popped it open in the Adobe Lightroom Android app, flipped the screen around so the computer was in tablet mode, and pulled the stylus out from its holster on the side of the computer. I had my image edited and ready to go in less than two minutes. It felt completely natural, saved me a little bit of time, and hinted at exactly what the future of the Chromebook could be—a genuinely good alternative to the fussiness of Windows and the priciness of MacOS.

Meet Microsoft's New Surface Laptops
In January, Samsung announced two new Chromebooks: a cheap Plus model (powered by an ARM OP1 CPU) and a pricier Pro—the only difference between the two being an additional color option (black), and a more powerful processor (Intel M3 CPU). Both were designed with considerable input from Google, and the two companies hope that all the careful engineering and a neat stylus will convince you that this device is worth spending $450 to $550. You can get a reasonably not garbage Windows machine for the same price, so Samsung's newest Chromebook has to be damn great. Especially to surpass the trials of its predecessors.
Google thinks it really has something going for it in this souped up OS version of its popular web browser. Unfortunately, unless your needs are excruciatingly simple, the Chromebook has not been very good. It's been bereft with compromise. You can spend half of what you would on a Windows laptop, but the build quality would be cheap and the display ugly. Or you could throw down the money for a premium device, and feel hampered due to Chrome OS' inability to do more than browse the web.

Samsung's new Chromebook Pro is nearly perfect (I reviewed the Pro, but most of this review applies to the Plus as well). For the price. And for the compromises demanded of Chrome OS. This still isn't—and will never be—the OS for the hardcore. If you're normally glued to your PC making major photo or video edits, or coding a new app, Samsung's Chromebook isn't for you. This is for budding digital artists who want a cheap hybrid laptop with a built-in stylus. Or kids and college students who need the 10 to 12 hours of battery life the device can get in daily use.
And it's for people who like a pretty display that somehow found its way onto a $550 device. It is one of the best looking displays you'll find on something this cheap, with blacks so dark they blend into the bezel and beautiful vibrant colors. Though Samsung did decide to go with the iPad-like 12.3-inch, 2400 x 1600 display with a 3:2 ratio instead of a more popular 16:9 found on other laptops.

It also charges via one of 2 USB-C ports, packs in a MicroSD card reader, has a keyboard that's a dream to type on, and it continues Samsung's trend of having one of the best trackpads in the business.

But Samsung's new devices also add a new feature: the ability to convert into a great tablet. The 360-hinge and touch display aren't new—the wonderfully cheap Asus Flip let you go into tablet mode, too. Yet that was back in 2015, before Chrome OS began optimizing for our fingers. Now that Chrome OS supports Android apps the device is perfect for reading comics, jotting down notes, or even drawing. Photoshop Mix, Lightroom, and popular apps like Sketchbook by Autodesk all open easily and work nearly identically to how they should on a much more expensive Android tablet or iPad.
The included stylus even has a roughed up nub, so it doesn't skate across the glass of the display like Apple's $100 Pencil. That tweak to the stylus is part of Google's plan to make this device as easy to write on as pricier tablets. It can't compete on hardware without increasing the cost, so instead, Google relies on minor alterations to the stylus as well as on software, using machine learning to create an algorithm to anticipate your next pen stroke. The idea behind it is that it should make writing on the device feel more realistic without the telltale lag you'd expect from something with such a low-powered processor.

Drawing on the devices is still laggy. As much as I adore the Chromebook Plus, it's damn sluggish when you first press the stylus to the screen. In the video above you can clearly see when writing the Pro is sometimes an entire letter behind the pen. The problem persists in traditional drawing scenarios, too—but in both cases, your brain quickly adjusts to the lag, and after about five minutes, if your co-workers aren't looking over your shoulder shouting, "THAT THING IS SLOW," you won't even notice.

Unfortunately, the lag isn't just present when writing on display. I tested the premium "Pro" version of the device, and after having it choke up on me a few times when messing with Android apps, I can't even imagine how painfully slow the Plus might be. It's especially sluggish when I try to have multiple Android apps open. In fact, Android apps ran so slowly I had to go uninstall a lot of them, including Slack, Twitter, Trello, and Plex. The only apps that didn't cause the computer to slow down like a ten-year-old laptop dragged out of the bottom of the closet were ones specifically optimized for Chrome OS—like the Adobe apps.
And the Adobe apps speak to the future of what this device, and Chrome OS, could be. An affordable hybrid that doesn't demand you compromise quality for price. This is a true competitor to Windows and MacOS that sacrifices bells and whistles for lean, smooth operation. It is the perfect device for people who only have $550 to spend, and it's a fantastic secondary device for people who have a lot more. If more app makers start optimizing for Chrome and more computer makers start building hardware this good, then the new Samsung Chromebook Pro could be the future of Google operating systems.

The Samsung Chromebook Plus is currently available in stores for $450. As it has the slower ARM processor, I'd be wary of buying it if you plan to take advantage of beefier Android apps. Instead, wait for the $550 Samsung Chromebook Pro, which will be available in early April in either silver or black.
README
The tiny Samsung stylus fits directly into the computer when not in use. It has a rough nub, so it's more pleasant to use on a glass surface than competitors
Android apps can slow the Chromebook Pro way down, so pick and choose what you leave open carefully.
Photoshop and Lightroom actually work pretty nicely thanks to some optimization efforts by Adobe.
The keyboard and trackpad continue to build Samsung's reputation for really nice input devices.
Battery lasts 10-12 hours on a charge
You will be hard pressed to find a display that looks this good at this price.
Build quality is a major step above most other devices that retail for $550 or under.