What do you get when you cross NYT bestselling author Lev Grossman with Hellboy creator Mike Mignola and a collection of strange artifacts? You get Doctor Roboticus, that's what.
And you get a whole heck of a lot more: a fully illustrated compendium of exciting stories and art featuring Holly Black, China Mieville, Michael Moorcock, Alan Moore, Garth Nix, Naomi Novik, Cherie Priest, Jan Svankmajer, Carrie Vaughn, Jake von Slatt, Charles Yu, and more. Here's the whole fascinating and odd and amazing story behind the stories in The Thackery T. Lambshead Cabinet of Curiosities…
How did we get to this point with The Thackery T. Lambshead Cabinet of Curiosities? The supposed exploits of Dr. Lambshead were first documented in the cult-classic The Thackery T. Lambshead Pocket Guide to Eccentric & Discredited Diseases (2003), a finalist for the Hugo Award. Bookstore readings for fake disease guides are more fun than you might imagine, with authors like Neil Gaiman and Jeffrey Ford in lab coats, accompanied by beakers and anatomy charts. Patrons not there for the reading would walk by with concerned expressions on their faces, hearing disturbing terms like "Motile Snarcoma" and "Ballistic Organ Syndrome." To this day we receive emails from doctors and students who let us know our fake disease guide is housed in the real medical guide section of their college library. So who's to say Dr. Lambshead isn't real?
G/O Media may get a commission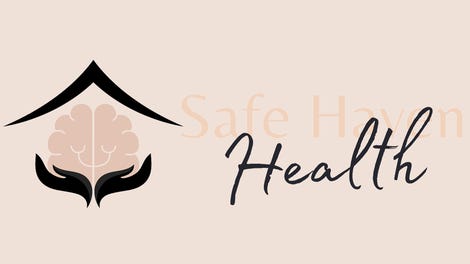 Addiction counseling
Safe Haven Health
Art by Sam Van Olffen, 2008, all rights reserved
After the fame and fortune that naturally occurs when you publish a book of fake diseases, we weren't sure what to do next. Offers to do a second fake disease guide, a book of fake books, a compendium of reviews of fake movies, a tome of fake fakes didn't seem all that interesting. Instead, we undertook several other projects, including a clip-on handle for suitcases, shoes you could slip over your real shoes for no particular reason, and The Overkill 2000, our convenient vermin exterminator: "Exterminate Vermin from the Comfort of a Customized Vintage Vehicle" (pictured above). None of it went over very well...Indeed, to escape our creditors we fled to Prague.
Photo by Ann VanderMeer, 2008, all rights reserved
On our first visit to Prague, we wanted to meet the famous Czech filmmaker Jan Svankmajer, known for his stop-gap animation version of "Alice in Wonderland," among others. We managed to track the filmmaker down to his closed Gambra gallery, but even with repeated banging on the door he would not come out. So we shoved a copy of one of our anthologies, with a note and email address, inside of a cracked window pane. We realized later that this might not be as legitimate and trust-invoking method of communication as we had thought at the time. (Here's one of us posing in front of the gallery.)
Art by Jan Svankmajer, 1975, all rights reserved
On our second trip to Prague, the Gambra Gallery was open even though Svankmajer was away at a film festival. But we did acquire a nifty cryptozoology print by Svankmajer, already signed by him. We brought it home, had it framed, and every so often as we stared at it said to ourselves, "Wouldn't it be amazing if we could include Svankmajer's art in a book some day?" A couple of years later while hiking one of us said, "What if Dr. Lambshead had a cabinet of curiosities?" And the other one said, "What if we make our lives miserable riding herd over 85 creators just so we can include a Svankmajer in a book? Or what if we just stick needles in our eyes instead?" And that settled it. (Luckily Svankmajer agreed to let us use his print, no doubt having forgotten the whole book-through-a-broken-window thing.)
Art and design by John Coulthart, 2011, all rights reserved
Recently, one of our contributors, Gio Clairval, provided a succinct definition of the cabinet of curiosities: "Over the years eccentric people would collect odd, strange and fantastic items, to assemble them in cabinets. The richest (or craziest) among these people devoted entire rooms to their collections. In Germany, a collector's room was called Kunst und Wunderkammer, meaning "Chamber of Art and Marvels." In France, the appellation was cabinet de raretés. Alas, several collections were dispersed after their owners' death, or discarded as silly and unscientific endeavors until in the twentieth century a renewed interest sparked the creation of the first museums dedicated to old mirabilia." Clearly, Dr. Lambshead's cabinet would have to be particularly odd, strange, and fantastical to keep up with reality.
Art by Jennifer and J.K. Potter, 2011, all rights reserved
So to create our cabinet, we "just" needed to acquire more amazing art and then ask amazing writers to create fiction around that art. Near the top of our list was pop-horror artist J.K. Potter, his burgeoning reputation forever besmirched in the modern era because his name sounds oddly like "J.K. Rowling" mixed with "Harry Potter." When we asked him for a contribution he sent us this image and we marveled at his ability to create so perfect a reconstruction from Dr. Lambshead's cabinet…only to receive an email from him in which he said, "Oh, that? That's just a photograph of one of the shelves in my house, arranged by my wife Jennifer. Want some more?" We await an invitation to visit his house with both apprehension and awe…
Art by Mike Mignola, 2011, all rights reserved
Then there were the contributors who felt no need to reference reality before creating their stories. Such was the case with iconic British author Michael "I Created the Multiverse So I Can Do What I Want" Moorcock, who submitted the absurdly titled "Shamalung (The Diminutions)" based on Mike Mignola's artwork. With no historical evidence whatsoever to back up his claims, Moorcock asserts that eighteenth-century Methodist missionaries found a way to miniaturize themselves so they could be inserted into the bloodstreams of heathens so as to convert them at a cellular level. That faeries and cat food also figure prominently in the plot only make the entire proceedings all the more absurd. We are somewhat sure that Dr. Lambshead would never have had anything to do with something so scientifically dubious…
Art by Greg Broadmore, 2011, all rights reserved
In another class entirely were those contributors who tried to impose absurd conditions upon us. For example, Minister Faust turned in a story involving Nikolai Tesla, only to insist that we provide images of "a Bosnian Coarse-Haired Hound eating a clown composed entirely of human kidneys and a massive bust of influential English occultist Aleister Crowley transmogrified into 'a field of bunnies dancing with all the glee of becandied children'." This we would not and could not do, and instead this rendering of Tesla's Neurheographiton by Weta Workshop's Greg Broadmore accompanies Faust's fancies.
Art by Eric Orchard, 2011, all rights reserved
Some contributors made no demands, but instead tried to deceive us. Such was the case with Adam Mills and his "The Bear Gun." As you might imagine, we believed Mr. Mills, only to find out after it was too late that a prototype of this gun actually existed! What is a bear-gun? According to Mills, "When fired, it releases a live bear as a projectile. The bear expands in a matter of seconds from the size of a musket ball to full size, at which point it latches onto its target and devours it noisily." The image below by Eric Orchard is a re-creation from a badly damaged 1880s photograph of a bear rumored to have been fired from a bear gun. As you might expect, we will not be inviting Mr. Mills back (nor Mr. Jess Gulbranson, whose "Coffin Torpedo" also turned out to exist).
Art by Sam Van Olffen, 2007, all rights reserved
Other contributors missed the point entirely. French performance artist Sam Van Olffen took a strange dislike to Dr. Lambshead from our guidelines, apparently thinking our anthology honored a real person. Although Van Olffen provided images, he also attempted to produce a satirical musical in Paris entitled "The Mad Cabinet of Curiosities of the Mad Dr. Lambshead" taking the imaginary man to task for all manner of crimes-for example, this image supposedly shows a laboratory for illegal experiments. Van Olffen then sold a less grandiose film treatment of the musical to the SyFy Channel, which promptly overhauled the script for a forthcoming movie titled Mansquito 5: The Revenge of Dr. Lambshead. We would provide more details of this debacle, but we are currently in litigation.
In other cases, the assignment drove our contributors to even deeper extremes of behavior, from which they may never recover. Take, for example, this image, by an unknown German artist, which we sent to the writer Amal El-Mohtar. After all, how hard can it be to write a story about a huge flounder singing in front of an intense-looking bearded man with two parrots hunched on his shoulders? Very hard, as it turned out. Although she turned in the results of her research, her subsequent behavior forced us to include this note in the anthology: "El-Mohtar's unorthodox approach…has nothing to do with the fact that she has since withdrawn into the seclusion afforded by a village in the south-west of Cornwall, where she spends her days in pursuit of garden fairies to dissect for her doctoral thesis and skipping hither and thither singing Abba songs whilst picking wildflowers."
Art by Vladimir Gvozdev, 2008, all rights reserved
Madness seems to be a theme of cabinets of curiosities. This is certainly the case when considering Russian painter Vladimir Gvozdev's depictions of mechanical animals. They repurpose the visions of a German mechanic who lived in Russia at the beginning of the twentieth century. Says Gvozdev, "After Germany's defeat in the First World War, the mechanic went mad and was held in a lunatic asylum for life. There he began inventing vergeltungswaffe, a German term for 'vengeance weapons.' I never saw his blueprints, but I liked the story so much that I tried to make via my blueprints a sort of portrait of the inventor himself-to create a little museum out of the mind of that German mechanic." Now a Russian's re-imaginings of a German's ideas reside within our conceptions of a British doctor/collector's cabinet of curiosities…
Art by John Coulthart, 2011, all rights reserved
But even mecha-animals sometimes pale in comparison to the awesomeness of simple items. Take, for instance, the case of the fiery pea at the center of Dr. Lambshead's cabinet. This is the pea-de-resistance, chronicled by Italian writer Gio Clairval, that involve the central mystery of the framing story in the anthology: Why did Dr. Lambshead keep his cabinet hidden, and why did it suffer terribly from a fire that went unreported? Other mysteries accumulate as well: is Dr. Lambshead's wife dead, and if not is she part of a secret society? Did Hellboy creator Mike Mignola really once want to write a book entitled Subsequently Lost at Sea, about "all kinds of crap lost at sea." And what do Dracula's testicles, a harness and leash for a fly, a box of reversed commas, an ounce of silence, and a decanter of everlasting sadness have to do with anything? To find out you'll have to read The Thackery T. Lambshead Cabinet of Curiosities.