Matt Nix's X-Men TV show also adds an important cast member. The team behind Alien: Covenant discusses copious amounts of blood and the design of its new Alien. Finn Jones wants Misty Knight and Colleen Wing to get their own TV show. Plus, a new behind-the-scenes look at Justice League, and Supergirl casts an iZombie star. Spoilers now!

Alien: Covenant
Creature supervisor Connor O'Sullivan tells /Film he used more blood working on Alien: Covenant than he used in Saving Private Ryan, if you needed an indicator that this movie would get gory. O'Sullivan also commented on the design of the "neomorph," the chief alien of the film:

The approach Ridley wanted was more of a naturalistic [design]. It's still based on the [H.R.] Giger original design. We wanted that flavor, that sort of art nouveau-y, unusual, erotic design.
---
Avengers: Infinity War
Benedict Cumberbatch is full of praise for the film's script in a new interview with Entertainment Tonight. Be prepared for fun in this movie!
I've got a script and I've been reading it. It's very, very good fun.
---
Justice League
Gal Gadot has shared a new behind-the-scenes picture of Wonder Woman from the movie to celebrate Zack Snyder's birthday.
G/O Media may get a commission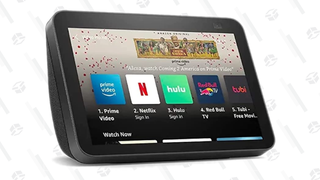 ---
Logan
IGN spoke to Boyd Holbrook about his character, cyborg villain Donald Pierce—he's just a regular, down-to-Earth bad guy with multitudinous cybernetic enhancements.
---
Colossal
Here's a new, stylized poster for the "Anne Hathaway inadvertently controls a giant monster" movie. [Coming Soon]
---
Pirates of the Caribbean: Dead Men Tell No Tales
Coming Soon has a new poster, released ahead of a new trailer coming later today.
---
Inhumans
Serinda Swan has been cast as Medusa. In a press release, showrunner Scott Buck stated that Swan— who formerly played Zatanna on Smallville — brings "elegance" and "determination" to the role.
Serinda Swan brings a regal elegance, as well as a sense of great inner strength and fierce determination, to the role of Medusa. I couldn't be happier to have her as our Queen of Attilan.
Jeph Loeb added:
Serinda empowers Medusa's regal glory and still maintains a relatability that synced perfectly with the character. She is nothing short of wonderful.
[TV Line]
---
X-Men
Natalie Alyn Lind has joined the cast as daughter Lauren, a high school girl who is "smart, pretty, popular, organized and already ahead on her college applications." According to the press release, Lauren is "the model of a perfect kid." There's no mention of it in the description, but presumably Lauren is one of the children in the main family who is revealed to be a mutant, necessitating her family going into hiding. [Coming Soon]
---
Iron Fist
Actress Jessica Henwick teases a big journey for Colleen Wing in the series:
Colleen goes on a pretty crazy journey alongside Danny. She is very private, so I don't think she really starts to take down her walls until halfway through the show. Then you start to learn more about her background and how she ended up in New York.
Meanwhile, Finn Jones says the words we've all wanted to hear: Misty and Colleen, the Daughters of the Dragon, should get their own spinoff show with the Heroes for Hire.:
Going back to the Daughter of [the] Dragons thing, I think it'd be awesome to see a television series with the Heroes for Hire and Daughters of [the] Dragon working together to take down crime.
[Nerdist]
---
The Expanse
Here's an ultra-brief synopsis for episode eight of the season, "The Pyre."
Naomi tracks down signs of the protomolecule; Fred Johnson's control over the OPA collapses.
---
Supergirl
iZombie's Rahul Kohli has been cast in the series as Jack Spheer, a tech genius destined to become the obscure supervillain Biomax, a giant swarm of sentient techno-organic matter. [TV Line]
In related news, pictures from Monday's episode, "Exodus," have been released. See the rest over at TV Line.
---
The Man in the High Castle
Michael Gaston (who plays Mark Sampson) has been promoted to series regular beginning with the show's third season.
[Deadline]
---
iZombie
Finally, Liv becomes the Che Guevara of zombies in a new poster shared by actress Rose McIver on Twitter.




---
Additional reporting by Gordon Jackson. Banner art by Jim Cooke.