Lovecraft's Cthulhu Mythos has left its slimy mark on Japanese manga, anime, pinball, and dating sim games. It always comes back to those infamous tentacles, as seen in adult horror anime such as Toshio Maeda's Urotsukidoji: Legend of the Overfiend.
H.P. Lovecraft (1890-1937), the famous horror writer, hated seafood, and he filled his stories with descriptions of monsters inspired by aquatic life: froglike mouthes, scales, tentacles, fins. The alien god-creature Cthulhu, his most famous creation, is basically an octopus-headed sea monster.

In Lovecraft's story "The Dunwich Horror," the closest the Puritanical writer came to the monsters-ravishing-women plots so popular among his pulp sci-fi and horror contemporaries, a woman is impregnated (offscreen) by the alien entity Yog-Sothoth and gives birth to His hybrid spawn. Surely "The Dunwich Horror" is the kissing cousin of Maeda's manga Demon Beast Invasion, in which, to quote Wikipedia, "demons…plan to impregnate as many human beings as possible"!
But the Lovecraft influence in anime and manga is not as easy to pin down as it seems. The horror genre is rife with non-Lovecraftian tales of demon rape, vampire rape, tree rape etc., and Maeda's primary aim in using tentacles, as stated in various interviews, was simply to circumvent Japanese censorship laws by replacing forbidden penises with giant, slimy, technically-not-a-penis penetrating objects.

G/O Media may get a commission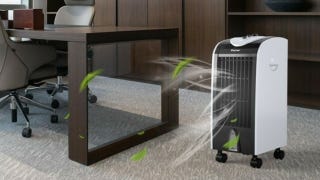 Save $10
Evaporative Portable Air Conditioner Cooler with Filter Knob
Hokusai's 1820 woodcut The Dream of the Fisherman's Wife is often cited as another possible influence for Maeda's tentacle fetish. In other manga, the common theme of ancient gods and monsters, waiting to be unleashed if the proper rituals are not performed or if their shrine is profaned, often owes more to Shinto mythology than to Lovecraft.
Many manga have arguably Lovecraftian echoes, from Yuzo Takada's 3x3 Eyes, a pulp adventure about globetrotting occultists who fight evil cults and their demonic masters, to Go Nagai's Demon Lord Dante and Devilman , with its vision of prehistoric monsters which once ruled the earth and will rule it again. Tsutomu Nihei, Kentaro Miura and Kazuo Umezu, among many others, draw monsters which would be at home in Lovecraft's stories, but whether they're Lovecraft fans is unclear.

To make sure that something is Lovecraft-influenced, you need names. Ahead of its time when it began in the 1920s, Lovecraft's so-called "Cthulhu Mythos"is a web of in-jokes and cross-references, a shared-universe guessing-game. Lovecraft references are a cult language, like the Aklo tongue in Alan Moore's short story/comic The Courtyard. Once you know the mythology of Lovecraft's dark gods, you can add to it yourself, Wikipedia-style. (Heck, I've even done Lovecraft comics myself.) In his introduction to the 1980 prose anthology New Tales of the Cthulhu Mythos, Ramsey Campbell wrote that the one good thing about the overcrowding of the Mythos by Lovecraft imitators was that it was no longer possible to claim that any one idea or story was "canon." But that hasn't stopped fans from trying for the last 30 years. Lovecraft's Mythos strokes the otaku brain right on its nerve center, whispering that it is possible to know everything, to achieve some kind of mystical apotheosis: knowledge is power.
Lovecraft's work began being appearing in Japanese as early as the 1940s, when Nishio Tadashi's translation of The Statement of Randolph Carter was serialized in Hakaba ("Graveyard") magazine, and when his work appeared in translations of foreign horror anthologies. As in America, however, it grew in popularity partially due to translations of the Call of Cthulhu roleplaying game, published first by Hobby Japan in 1986 (at the height of Japan's '80s horror boom) and later by Enterbrain. Cthulhu-themed manga and stories appeared in Hobby Japan publications such as RPG Magazine and Comic Master. Meanwhile, many science fiction and fantasy authors began name-dropping Cthulhu and showing other Lovecraft influences: Kaoru Kurimoto , creator of the Robert E. Howard-influenced Guin Saga novels, Shiro Sano, Jun Hazami (the Japanese translator of Douglas Adams' Hitchhiker's Guide books), and Vampire Hunter D creator Hideyuki Kikuchi, just to name a few.
One curiosity of Japanese translations of Lovecraft is that, since the Japanese language is phonetic, Lovecraft's intentionally unpronounceable alien names-R'lyeh, Cthulhu, N'kai, Shub-Niggurath, etc.-are unavoidably made pronounceable. The "official" Japanese version of the word "Cthulhu" ends with a short vowel and sounds a bit like "Katulf," possibly the inspiration for the infamous Romanization "Cthuwulf" used in the inane anime Fight! Iczer One, in which lesbian alien villainesses command an army of vaguely Cthulhu-like minions.

English speakers may have to listen closely to recognize the Cthulhu namedrop in the 1998 film Eko Eko Azarak 3: Misa the Dark Angel, a spinoff of Shinichi Koga's non-Lovecraftian 1970s schoolgirl occult horror manga. (I sometimes wonder, wouldn't it have been more in the original "unnameable" spirit if the Lovecraftian creature-names were written out in made-up Chinese characters, and not written phonetically at all, so that literally no reader could pronounce them? )
Sometimes the name-drop is all there is. Anime writer and novelist Chiaki Konaka is famous for making incongruous Lovecraft references, such as the name of the android title character in the anime Armitage III (the name of a crusty old professor in "The Dunwich Horror"), or the names Hypnos, Yuggoth, Dagomon (Dagon) and Shaggai in the kids' anime Digimon.
(In terms of mood, Konaka's most explicitly Lovecraftian work is probably one without Lovecraft references at all, Marebito, a novel and rather feeble low-budget movie loosely based on the underground world invented by arguably insane pulp sci-fi writer Richard Sharpe Shaver.)
Kyoichi Nanatsuki and Yoshihide Fujiwara's 1992-1995 manga Jesus, a Shonen Sunday action series about an ex-mercenary, features crime and special ops personnel code-named "Hastur," "Lloigor," "Nightgaunts," etc. In Sayoshi Mizukami's Psycho Staff a high school student with psychic powers is recruited by a cute alien girl to help her. Sounds like any other teenage rom-com manga — except wait, the girl is from Planet R'lyeh and the bad guys are from Planet Yaddith! These references may just be shout-outs, but at least they don't seem like crass attempts to sell stuff to Lovecraft fans, like the wretched direct-to-video movie Cthulhu Mansion or the porn anime Mystery of the Necronomicon.
In an article in the Japanese Mythos horror anthology Night Voices, Night Journeys (published in English in 2005 by Kurodahan Press),Yoshihiro Yonezawa and Satoshi Hoshino provide an exhaustive 50-page history of manga which really refer to Lovecraft.
Several "Classics Illustrated"-style direct adaptations of Lovecraft stories have been published, from The Outsider to The Call of Cthulhu. Other adaptations are more veiled. In 1963 Shigeru Mizuki, the creator of the classic children's horror manga Ge GeGe no Kitaro, wrote a Dunwich Horror adaptation under the name Chitei no Ashioto ("Footsteps of the Underworld"). Mizuki kept the plot outline exactly the same, but changed the names and transferred the story to rural Japan. Uncredited adaptations of books and movies were common in the manga industry at the time, similar to the way Tales from the Crypt ripped off several Ray Bradbury stories in the 1950s, until Bradbury noticed and called them on it.
Tatsunosuke Yatsufusa's in-jokey occult action-horror manga Yoiyami Gendô Zôshi performs a similar transplantation in volume 3 of the series, when the protagonists visit the small Japanese coastal town of Yog and find the villagers transforming into fish-people. Innsmouth wo ô Kage, Chiaki Konaka's 1990s TV adaptation of The Shadow over Innsmouth, also transplanted the same story to the foggy byways of rural Japan.
Hideyuki Kikuchi's manga Taimashin (the ADV Manga version drawn by Misaki Saitoh, not the newer version published by Digital Manga), about a supernatural acupuncturist who can cure demonic possession with his needles, segues into a Dunwich Horror storyline which actually takes place in Dunwich, where gigantic blobs of tentacles and eyeballs lurk. Even Tomowo Maruyama's 1997 manga adaptation of the Bloody Roar video game series pitted the title werewolves and beast-people against thinly-disguised "Deep Ones" and other Lovecraftian entities. Shojo manga creator Maya Mineo, best known for the incredibly long-running manga comedy Patalliro, snuck Nyarlathotep and other Mythos entities into Patalliro and its occult comedy spin-off Astaroth.
Ryoji Minagawa and Hiroshi Takashige's globetrotting action manga Spriggan involves artifact hunters from the "Arcam" foundation (a misspelling of Lovecraft's Arkham), who travel the world gathering ancient artifacts before they can be used for evil purposes. Minagawa's next major work, Project ARMS (written by Kyoichi Nanatsuki), about combat cyborgs with apocalyptic powers, also featured several name-drops: Lavinia Whateley, Dunwich, Kadath, etc. None of these names made much sense in context, but who cares? Masamune Shirow's fantasy manga Orion fuses Indian, Japanese and Lovecraftian mythology, particularly in the climax when the tentacled planet-devouring demon, the embodiment of humanity's negative karma, is referred to as both "Yamato no Orochi" and "Cthulhu."

Black Lagoon creator Rei Hiroe, in his fragmentary and untranslated early works Hisuikyô Kitan ("The Mysterious Tale of Jade Valley") and Phantom Bullet, referred to Tome of Chaos, Nyarlathtotep, Glaaki, etc. Phantom Bullet, in which a mysterious girl named "The Gunslinger" stands in the way of Nyarlathotep's evil schemes, has never even been collected into graphic novel form.

The action manga Death, aka Death Mask, by horror artist MEIMU, also involved superpowered girls caught in the battle between the Light Ones and Old Ones, evil sorcerers and forbidden books. Yasunori Mistunaga's Princess Resurrection, about frilly-skirted princesses who command armies of monsters, opens each volume with Lovecraft's famous phrase "That is not dead which can eternal lie. And with strange eons even death may die." The manga's creatures, however, are taken mostly from Universal horror movies-wolfmen, vampires, etc. (They could have always gotten the quote from an Iron Maiden album cover, I guess.)
The ultimate Lovecraft manga may be Kentaro Yano's five-volume series Jashin Densetsu ("Evil God Legend"), originally published as individual books titled Lamia, Dark Mermaid, Last Creator, Confusion and Reverse. Produced in conjunction with the Call of Cthulhu roleplaying game in Japan, the story follows a group of investigators, the Chaos Seekers, as they seek to thwart the schemes of Lovecraft's monstrous gods and their followers. In the process, they encounter nearly every creature in Lovecraft's bestiary, big and small, rugose and squamous. The mood is mostly serious, but Yano's rom-com background shows up in the sexy and often alien women who show up in several stories. In the end (SPOILER), the world is destroyed and everyone dies except for a man and woman who escape in Adam and Eve style to start anew. Yano also drew the 24-page gag comic "The Call of Cthulhu," in which Cthulhu calls up Tsathogghua one day so they can hit the town and try to pick up girls.
As Lovecraft got older, his work drifted towards science fiction, but two of the greatest Lovecraft-influenced manga artists have a heavy surrealist aesthetic. Daijiro Moroboshi, an as yet untranslated artist of horror and Asian mythological manga, snuck Lovecraftian names into his 1974 supernatural-investigators manga Yokai Hunter ("Monster Hunter"), as well as his horror-comedy Shiori to Shimiko, in which an eccentric horror writer is married to a giant Dunwich Horror-like monstrosity with a woman's face, and they have a daughter, Cthulhu. Moroboshi's work combines an almost Hayao Miyazaki-esque element of whimsy, and beautiful drawings of the natural world, with a mood of detachment and a feverish imagination for strange monsters.
Another borderline Lovecraftian horror manga artist is Junji Ito. Ito has only explicitly referred to Lovecraft in his untranslated short story Sword of Reanimator, a sort of horror comedy, but his work seethes with Lovecraftian fears of body-mutation, insanity and apocalypse. In one untranslated story, a giant fish-creature washes up on land, and when its belly is split open, hordes of living humanoids pour out. In "The Village of Sirens," a short story in Museum of Terror volume 3, a dark force turns people into bat-winged creatures and spills out to consume the entire world.
Uzumaki ("Whirlpool"), a three-volume story about a village haunted by spiral phenomenon, ends (SPOILER AGAIN!) with the discovery of a colossal city of non-Euclidean spirals buried underground. Horror often escalates into absurdity in Ito's work, as in Remina Jigokusei ("Hellstar Remina"), an untranslated sci-fi story in which the Earth is menaced by a giant planet-like creature (similar to Ramsey Campbell's short story "The Tugging") which travels through the galaxy eating planets whole.

Of course, even Cthulhu has not been immune to the moe virus spreading its feelers of cuteness across Japanese pop culture. Kasakura Publishing's Kowai to Kyôki no Cthulhu Shinwa ("The Terror and Madness of the Cthulhu Mythos"), a Lovecraftian artbook, has a cute girl on the cover.

Eagle Publishing's Moe Moe Cthulhu Mythos Dictionary (cover image behind the cut for reasons of taste) is part of a series of books like Moe Moe Dragon and Moe Moe Military, featuring sof tcore drawings of big-eyed girls with some tentative tie to the subject matter.

Manta Aisora's light novel series Haiyore! Nyaruko-san is a typical story of a teenage boy harassed by a weird girl who appears out of nowhere…except that this time the silver-haired girl is the deity Nyarlathotep, who has come to gather her chosen ones for her evil plan! If you can't read Japanese, don't worry, the anime comes out later this year.
Japanese video game publishing has also felt the call. Lovecraftian entities appear among the other demons in the Shin Megami Tensei video game series, just to name one reference, and for awhile it seemed like nothing could be weirder than the 1996 Sega Saturn game Digital Pinball Necronomicon.

That was before Nitroplus, a Japanese indy game developer, published the adult game Demonbane. Set in "Arkham City," Demonbane stars Kuro Daijuji, a badass detective who one day meets "Al Azif," a mysterious girl. Turns out that Al Azif is another name for Lovecraft's Necronomicon, and the girl herself is the human form of the ancient book of evil, who has chosen Kuro for her true owner! When not, uh, having sex, the two of them join together to pilot the giant robot Demonbane against other occultists and freakazoids. The game turned into an anime TV series, minus the sex, under the title Kishini Hôkô Demonbane ("Roar of the Machine God Demonbane"). Even Kuro's name is a reference to Brian Lumley's character Titus Crow .
There was no "minus the sex" in Nitroplus' next Lovecraftian project, Saya no Uta. The protagonist, Fuminori, undergoes brain surgery to save his life, and wakes up (a bit like the hero of Lunar Legend Tsukihime) to find that his senses have been warped. What was once normal now looks like rotting flesh and slime, and Fuminori finds himself slowly going insane. Then he meets a young girl, Saya, the only human-looking object in his new universe. Of course, it's Fuminori who's crazy, and we soon figure out that Saya is an extradimensional monster whose true horrible form is left to the player's imagination. Saya and Fuminori engage in copious forbidden sex (did I mention that, even in human form, Saya looks like she's 13 years old?) as the two twisted souls lead eachother down the path to madness and murder.
Another adult game publisher, BlackCyc, has alsoannounceda Cthulhu-themed "romance system tentacle battle" game for 2010 release. Titled Ku-Litoru-Litoru (which could be a combination of the words "Cthulhu" and "Little"), it features a harem of sinister women including a sexy blonde named "August," presumably after Lovecraft's friend August Derleth. Forget Twilight-is Lovecraftian horror-porn the next trend?
Lovecraft, who never put sex in his stories (at least not intentionally), would surely have been horrified by the sexualization of his creations, whether by Japanese or Western audiences. But at least he doesn't have to take the blame for the tentacles, right?
Think again. In Toshio Maeda's 1989 manga Jaseiken Necromancer ("Evil Spirit Sword Necromancer"), the evil bad guy from another dimension is named Azathoth. So Maeda does know his Lovecraft, and the Overfiend's pseudopods really did have their roots in Lovecraft's seminal stories of unspeakable, slimy, cosmic evil.