When HP acquired Voodoo PC, the boutique gaming maker, I could think of only one thing: What would a creative PC maker like Rahul Sood do with the resources of a small platoon of HP engineers? The Blackbird 002 is the first collaboration, built with lots of HP workstation and server innovations, and a few neat tricks like the foot that keeps the PC off the ground for a sixth side of cooling. Unlike the Dell XPS line with its proprietary-sized components, this is fully standards compliant for when you want to rip out the guts and upgrade a few years later. The crazy thing is, this is the HP branded gaming PC with VoodooDNA: The gnarly Voodoo branded stuff is yet to come. The details:


G/O Media may get a commission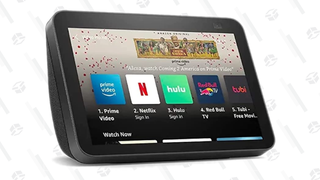 •The case is all aluminum and the large pieces are stamped from a single sheet—only one factory in the whole of China can do this, and they usually do car doors.

•The foot cal holds 800 pounds and is lit by an array of LEDs.

•The back panel has LEDs

•To help deaden the sound of fans, they're mounted deep in the front of the case.

•There is a card reader and front mounted ports on the top. Click on the case to have it soft-open.

•The front of the machine has

•All components are tool-less. Except the back panel. Lo, there is a built-in tool kit for this! (Allen wrench)

•The sixth side, the bottom, is an air intake. It has a mesh grill, but won't stop dust. This thing needs filters, in my opinion. Dust is everywhere, on every floor!

•The graphics cards and other cards are in their own channel for cold air, and are secured by a single lid with springs and a latch. Card ends seem to be customized for this case, which is weird. Do you have you upgrade to HP cards later on?

•The graphics cards and CPU are watercooled, but no peltiers, as they tend to add too much heat to the case, says Rahul Sood. The radiator and output fans, which look like 12cm fans (two of em) are roof mounted.

•The VoodooDNA is their "ingredient brand".

•The 5 drive slots for 3.5 inch HDDs are tool free, as well.
It is by far the most beautiful looking PC I've ever seen. I worry about the dust issue, but that could be easily fixed by adding filters.

Introducing HP Blackbird 002



HP Blackbird 002 is a machine born from the minds of gamers, created with gamers in mind. Designed

by a core group of gaming enthusiasts at HP and performance computing experts from VoodooPC, HP

Blackbird 002 offers gamers new levels of innovation and versatility. Every element of HP Blackbird 002

- from its aluminum chassis to the cast-aluminum foot - contributes to its dynamic look and its extreme

performance.

Built with industry standard components, it is also designed to encourage gaming enthusiasts to make

modifications to existing hardware and upgrade to future generations of performance hardware.

Features like the removable side panel and interior/exterior back panel LED lighting make it convenient

for gamers to get inside the machine and tweak it.



To ensure performance meets each Blackbird owner's expectations, every HP Blackbird 002 is

configured to the individual's preference when it is purchased and ships with a completely open BIOS,

allowing for total customization.

Although the system was designed with gamers in mind, it is also ideal for anyone needing a

performance machine. People looking for a PC to handle demanding tasks such as photo, video and

music editing will also love the innovation packed into HP Blackbird 002.

Product Highlights



•Industry Standard Components - HP Blackbird 002 is the most versatile and configurable

performance PC in its class, simply because industry standard components are used throughout

the machine, making modification easy and driver conflicts a thing of the past.



•Full System Liquid Cooling - HP Blackbird 002 is the first in its class to feature full system,

maintenance-free liquid cooling that draws heat away from the CPU, motherboard and GPUs.

The factory-sealed system does not require the periodic maintenance other systems demand

and keeps the machine running quiet.



•Thermals - Heat is the enemy of performance PCs, and the three biggest heat generators are

the CPU, the GPUs and the power supply. HP Blackbird 002 isolates each heat source in its own

thermal chamber, ensuring that cooling air isn't contaminated with heat from one component

on its way to cool off another one. The HP Blackbird 002 can handle the heat.



•Easy Access - The machine invites users to pop the hood and tinker away. HP Blackbird 002 and

its removable side panel, interior and back panel lighting, and Voodoo-style wiring provides easy

access for enthusiasts to fine tune their machine's performance.



•Tool-less Upgrades - HP Blackbird 002 doesn't come with a toolkit. All the components, from

the CPU and GPU to the hard drives and optical drives, can be removed and installed sans tools.
•Flexible Overclocking - The HP Blackbird 002 standard BIOS allows user-controlled overclocking.

LCS systems are factory overclocked.



Key Design Elements



•Aluminum Chassis - Every element of the system's unique aluminum chassis tells a story. Its

wedge-shaped design and vectored lines hint at the raw speed inside. The fins that line the top

and front reflect a heat sink, paying homage to HP Blackbird's extraordinary thermal

management capabilities. And the tight fit and finish of the chamfered edges make it clear that

this finely crafted machine is tuned to perfection.



•The Hover - The single, cast-aluminum foot supporting HP Blackbird 002 is capable of

supporting up to 600 lbs., and only a select number of production facilities are capable of

manufacturing it. The cantilevered design allows airflow under HP Blackbird 002, making it

possible to seat the 1.1 kW power supply at the base of the chassis.



Availability, Pricing & Warranty



•Purchasing - The machine can be purchased online at www.hp.com/blackbird beginning Sept. 5,

2007

•Pricing - $2,500 - $7,100 USD

•Warranty - One year limited warranty*