Javier Grillo-Marxuach created The Middleman, last year's best (and most upbeat) TV show. Now he's moving on to Day One, NBC's series about global Armageddon. Has his Middle-optimism deserted him? We asked him. Minor spoilers ahead.
Yesterday, we posted a leaked trailer for Day One, which starts airing in March on NBC. Grillo-Marxuach is joining the show as a co-executive producer, and he says that trailer is a "great teaser for what's happening in the show." It's actually the trailer that series creator Jesse Alexander made, to convince the network to pick the show up. Grillo-Marxuach says even though he's sad The Middleman was canceled, he's excited to move on with his career and get to work with another group of talented people and learn from them.
One of the things we loved about The Middleman was its light-heartedness and the way it reveled in its fantastical stories. So we were wondering if Day One was going to be darker than The Middleman. Grillo-Marxuach replies, "Touched By An Angel would be darker than The Middleman." At the same time, though, he says that some of The Middleman's optimism will show up in Day One, and Alexander and his son are both huge fans of The Middleman.
You can see that optimism in the trailer, which showcases "the idea of a community coming together in the face of great adversity," says Grillo-Marxuach. For example, in that trailer, there's a moment where a police officer is holding a gun on a group of people on the freeway. And the other guy disarms the cop, but also reassures him that he's a good cop, and everything's going to be okay. It ends on a hopeful note of working together, says Grillo-Marxuach. And Alexander has been influenced by our new spread of global communication, and seeing how the internet has brought new communities together. So if you're expecting Day One to be The Road: The Series, you might be surprised.
G/O Media may get a commission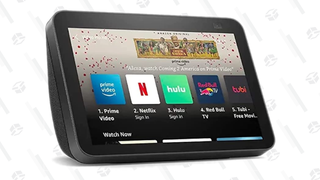 The Middleman comes out on DVD July 28. We'll have the rest of our interview with Grillo-Marxuach about the DVDs coming up soon.