We previously discussed how Neil Gaiman's Sandman reveal and Image Comics marquee slate of new creator-owned titles won big at Comic-Con 2012. Now check out the rest of the tidbits — which concern everything from rainbow-hued Clydesdales to Bishop from Aliens — that debuted last week in San Diego.
And first off, here are some of the books io9 debuted prior to Con: Image's Great Pacific, Dark Horse's Star Wars, and Archaia's The Joyner's in 3D.
G/O Media may get a commission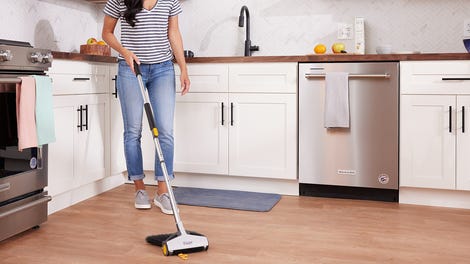 BOGO 50% Off
Flippr - BOGO 50% Off
- Former cinematic Frank Castle Thomas Jane unveiled a just-for-kicks Punisher fan film he made co-starring Ron Perlman. Said Jane of the project, "I wanted to make a fan film for a character I've always loved and believed in — a love letter to Frank Castle and his fans. It was an incredible experience with everyone on the project throwing in their time just for the fun of it."
- James Kochalka previewed a clip from his webseries adaptation of his dysfunctional superteam comic Superf*ckers. [Bleeding Cool]
- Joss Whedon and Warren Ellis are having a coffee klatch in London over a new project, their Wastelanders collabo. [Warren Ellis]
- DC unveiled new artwork by Shane Davis for Superman: Earth One - Volume 2. [The Source]
- Scott Snyder got the entire audience to dress up as the Court of the Owls at his Batman panel.
- Becky Cloonan will be teaming up with My Chemical Romance singer/Umbrella Academy scribe Gerard Way for The True Lives of the Fabulous Killjoys. [Tor]
- Pendleton Ward's new cartoon Bravest Warriors will receive a comic book from publisher KaBoom! [The Beat]
- The Lance Henriksen will be penning To Hell You Ride, a new horror book for Dark Horse Comics.
- Quentin Tarantino crashed the Before Watchmen panel to promote his Django Unchained comic published by DC. [The Source]
- LEGO unveiled their 2013 roster of new Marvel and DC minifigs. [Brothers Brick]
- Winter Soldier promulgator Ed Brubaker was extremely surprised that Captain America 2 is now titled Captain America: The Winter Soldier.
- According to Teen Titans writer Scott Lobdell, Tim Drake was never Batman's sidekick in the continuity of the New 52 — "Tim goes straight from being Tim Drake to being Red Robin in that there was no official period of time where he was Robin." Similarly, there was some fan consternation over the fact that Stephanie "Spoiler" Brown — the symbol of fan frustration at Comic-Con 2011 — will not be in Smallville: Season 11, as previously announced. [CBR and Wired]
- Kieron Gillen will write an Avengers Vs. X-Men aftermath miniseries, AVX: Consequences. Someone's going to kick the bucket by the end of the series, and the popular opinion seems to lean toward Cyclops. [Comics Alliance]
- Venom and Scarlet Spider will cross over in the upcoming symbiote-happy story arc, Minimum Carnage. [CBR]
- Katie Cook is penning a My Little Pony book for IDW Publishing. [CBR]
- After fading from the public eye for years, Neil Gaiman's boy wizard Tim Hunter will appear in Justice League Dark. [Bleeding Cool]
Top image: the cover of Avengers Vs. X-Men #12 by Jim Cheung.