Cyberpunk is no longer the future. We're living in an age in which many of the visions of creators like Bruce Sterling, William Gibson, Pat Cadigan and Ridley Scott are invading our world today.
Our lives (and minds) are more integrated with technology than ever before, and many of our cities are growing closer to becoming media-saturated mega-cities, dominated by large corporations. You can find cyberpunk visions in our midst. Here are some of the most cyberpunk places in the United States today.
Top image via Gnewt, Hackerbot Labs
In the excellent essay "Cyberpunk Cities: Science Fiction Meets Urban Theory," Carl Abbott argues that cyberpunk visions of cities are coming true, as increasing dependence on telecommunications leads to the rise of a few "world cities" which control the global economy. The features of the cyberpunk city include a huge divide between rich and poor, and an underground economy in which hackers and outsiders create their own resources. Corporate culture is writ large, but a gritty subculture resists. And of course, people are living intimately with technology and integrating it with their own minds and bodies. Those are the criteria we looked for here. (See also the alt.cyberpunk FAQ.)
We're hoping this will be the first in a series of articles that will look at cyberpunk places in the U.S.A. Send us your suggestions!
G/O Media may get a commission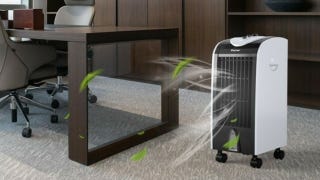 Save $10
Evaporative Portable Air Conditioner Cooler with Filter Knob
The Storm Drains of Las Vegas
Untold thousands of people live in the approximately 200 miles of storm drain tunnels, directly under the Las Vegas strip — some of them with a clear view of the blinding neon lights, lasers pointing into the sky and weird scheduled theater performances along the street. While Vegas hotel-goers take part in "virtual reality games" and explore shrunken replicas of the world's cities like Venice and Paris, the homeless people create their own massive graffiti art gallery underground.
And as Placehacking writes after a visit to the tunnels, this includes a new underground cyberculture:
And if we are bridging the gap between urban explorers and hobos, tramps and bums, following Anderson, what are we? Does that dreaded monstrosity the prohobo – the hobo that chooses to be homeless yet retains the ability to photograph, blog and scam the internet for money as well as picking pockets and robbing Liddle for fixtures to BBQ vegetables looted from the skip actually exist? Is this Donna Haraway's cyborg, neither nature nor culture, human nor computer, neither employed nor homeless? Are we becoming as liminal as the spaces we increasingly reside in? Are we finally getting close to the meld? I hope so, cause I can't wait to pop.
OmniCorp Detroit
Detroit is a very cyberpunk place to begin with, with its decaying infrastructure and unsustainable sprawl. But OmniCorpDetroit has a laudible dedication to weirdness and subversion — just watch the insane alleycat video at left. According to Art:21,
OCD offers classes like wire car making, speaker-building, circuit bending, web-development boot camp, workshops in Atari Punk Console creation and human-power electricity making, as well as Open Hack Nights that invite people down to the center to test out a concept within the collective working space.
There are great hackerspaces all over the country, including Noisebridge in San Francisco and Hackerbot Labs (see picture above) in South Seattle. Plus see below for a write-up of one more hacker space.
Microsoft's House of the Future
In the Microsoft Home, located at the company's Executive Briefing Center in Redmond, Washington, "nearly every wall and table is a digital device" according to PC World. The kitchen and living room include interactive place settings, displays that track your food consumption, and countertops that interact with the home's residents. The teenager's bedroom has entertainment and social connections seamlessly integrated into the walls.
And according to a Forbes profile, the home of Bill and Melinda Gates, worth well over $100 million, is a model of the smart homes of the future — and exactly the sort of place one of the more corporate, wealthy, wired protagonists in a cyberpunk story might live. According to Forbes, the Gates home includes such features as "an underwater music system in the pool, a 22-foot-wide video display and touchscreens throughout the house that can adjust music, lighting and air conditioning. Visitors to the house can wear wireless pins that adjust the lighting and temperature settings to their preferences as they walk through the house."
NYC Resistor
One of the country's most influential hackerspaces, NYC Resistor hosts demos and encourages people to void their user warranties by messing with their gadgets and toys. The witty signage (like a bathroom sign saying that "aliens and robots" aren't allowed to use this particular bathroom) and cool vibe enliven this space in downtown Brooklyn, NY. Writes Motherboard.TV:
NYC Resistor. has blossomed into one of the country's most influential hackerspaces. On any given Thursday night, their cozy, cluttered loft workshop is crawling with a diverse crowd of hardcore tinkerers and curious newcomers. Throwing some caution and many user warranties to the wind, they're there to build, refine, break and share everything from toy robots to intricate paper sculpture to open source musical instruments.
Photo via Laughing Squid.
Galeria de la Raza, San Francisco
This Latino-focused artspace in the middle of San Francisco's Mission District has taken a more cyberpunk turn lately, featuring a digital mural that is in "active dialogue" with an exhibit about illegal immigration. And the artspace has recently become the new home of La Pocha Nostra, an arts organization that produces "Chicano cyber-punk performances" featuring "Robo-Latinos," with explicit commentary on the way in which technology is changing humans.
Patrick Tighe Architecture's L.A. Loft
This converted warehouse is a live/work space that's packed with technology to integrate with the daily life of a high-tech denizen of future dystopian L.A. — including a "womblike" kitchen and a weird stone-clad monolith that exists in conflict with the organic, elliptical room. There's a raised living area that doubles as a workstation by day, and turns into a "luxe lounge" by night. [via Trendir]
Additional reporting by Katharine Trendacosta and Gordon Jackson.