Tommy Kovac is known for his melancholy characters such as Stitch, from his first comic, and Autumn, but also his mischievous Skelebunnies. His blend of whimsy and darkness appeals to goths as well as people who like mushrooms and acorns.
See more of Kovac's work on his website.
The Complete Skelebunnies Collection Cover
Sparkly Unicorn! Nothing could be sweeter than a Unicorn, right? But wait! What's this? Is this beautiful creature breathing sparkly fire?
G/O Media may get a commission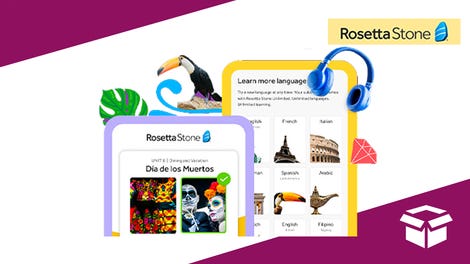 Extra 20% off
Rosetta Stone Lifetime Subscription - All Languages
The Royal Historian of Oz - Tommy's latest series about Jasper Frizzle, an historian hoping to follow in the footsteps of L. Frank Baum
Ignorance and Underpants
Skelebunnies #1 - The cover of the first issue. Who wouldn't be enticed by this?
You Love Us Now, Right? An interior page. Just gotta love this warped sense of humor.
I Died for Your Grins - a perfect Halloween flag.....
Sketch of the Widdershin Moon - very hypnotic
Forget/Sever
Shark Children
I Can't Listen to You....
Skelebunnies #2 - Please don't eat the babies (Naughty Knife and Angelic Spoon)
Chomp! Off with his head!
Screaming Inside
Autumn #1 - Cover of the first issue
Autumn Arrives on the Outcast Trolley
Autumn #2 - Cover of the second issue
Autumn #5 - Cover of the fifth issue
Bzzzt - Skelebunny love....
Wonderland - not your usual Alice
Sequential Tart
Skelebunnies Spanktacular #1
Stitch - one of Tommy's most beloved characters. Poor little rag doll.
Stitch #2 - Cover of the second issue
More Stitch
Monster Girls with Braided Horns
Why are you so disgusting? A question I ask my cats every day....
Shoes & Stockings...
Interior - from Skelebunnies (warning, pretty lewd)
Splort - The Devil