You can get comprehensive lists of everything coming to streaming services anywhere. But half of those titles you don't care about, and the other half are terrible. Where's the good stuff? io9 is here to help.
Below you'll find what we deem to be the best sci-fi and fantasy movies and TV coming to Netflix, Amazon, and Hulu in November.
---
Netflix
Available November 1
Bram Stoker's Dracula - Francis Ford Coppola's sumptuous retelling of the legendary vampire story remains a cult classic thanks to its amazing cast, effects, and production design. If you haven't seen it in awhile, now's the time to revisit.

G/O Media may get a commission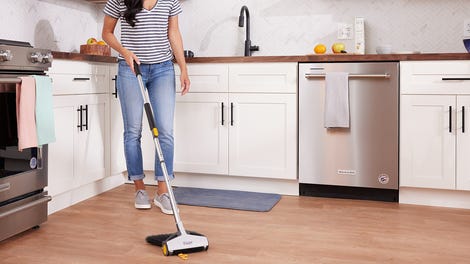 BOGO 50% Off
Flippr - BOGO 50% Off
Children of Men - One of the best sci-fi movies not just of this century, but maybe ever, tells the story of a world where reproduction is impossible and society is disintegrating, but a cure may have just been found. A straight-up masterpiece by Oscar-winner Alfonso Cuaron.
Close Encounters of the Third Kind - Another all-time sci-fi classic, this one by Steven Spielberg. I really don't need to say much but if you haven't seen it, you have your plans for November 1 sorted.

Cloverfield - Who can forget this found footage monster movie from director Matt Reeves, writer Drew Goddard, and producer J.J. Abrams? It's the movie that started a million "Is this a Cloverfield movie?" think pieces and still stands on its own quite well. Maybe one day we'll get a great direct sequel.
Doctor Strange - You better watch as many Disney movies as you can on Netflix before they're exclusively made available on Disney's streaming service—and this eye-popping Marvel Studios origin story is a really nice addition.
From Dusk Till Dawn - George Clooney and Quentin Tarantino star as killer brothers stuck in a bar full of vampires in this ultra-violent, super fun film from director Robert Rodriguez.
Available November 13
She-Ra and the Princesses of Power - We haven't seen this highly anticipated reboot of the 1980s series—but, come on, we had to mention it anyway.
Available November 15
May the Devil Take You - This Netflix original possession movie is about what happens when a man who sells his soul to the devil dies and leaves the debt with his family. It's a creepy, albeit it not perfect, Evil Dead homage that's well worth a stream for anyone craving some new horror.
Available November 18
The Pixar Story - A pretty solid little documentary about the legendary animation studio. Lots of good insight and fascinating stories.
Available November 20
Sabrina - This is one of those new Netflix original films that we haven't seen yet, but we're simply too intrigued by its description to not include it: "A toymaker and his wife are terrorized by a demonized doll after their adopted child tries to summon her late mother's spirit using a spooky ritual."
Available November 20
Mystery Science Theater 3000: The Gauntlet - A brand new MST3K entry consisting of six cheesy movies, riffed on back to back to back.
The Christmas Chronicles - At long last, it's time for the Kurt Russell Santa Claus movie.
Amazon
Available November 1
Child's Play - Netflix may have the similar-sounding terror toy flick Sabrina, but that's mere child's play when compared to the original Child's Play. This horror classic introduced us all to everyone's favorite killer doll, Chuckie, and is still pretty damn scary.

Excalibur - The story of King Arthur gets one of its most memorable and visually impressive retellings in this cult favorite early '80s fantasy. The cast, by the way, is so insane in retrospect: Helen Mirren, Gabriel Byrne, Liam Neeson, Patrick Stewart, etc.
Hostel and Hostel: Part II - Eli Roth really became "Eli Roth" with this two-film series about American tourists finding the worst possible places in Europe. Gory but pretty great. Also on Hulu.
Jacob's Ladder - This mind-bender starring Tim Robbins comes and goes from streaming, and here's yet another chance to see it. It's one of the best trippy horror thrillers out there.
James Bond movies - 007 is taking over streaming in November, and Amazon's got Die Another Day, The Living Daylights, and The World Is Not Enough.
The Adventures of Tintin - Steven Spielberg and Peter Jackson's animated adventure film didn't quite get the praise it deserved when it was first released. But now, with lowered expectations, it's a hell of a lot of fun.
Weird Science - No, the idea of two nerds magically creating a statuesque trophy woman doesn't really hold water in 2018—but if you can get past that, the movie itself has so much to love about it, including a young Robert Downey Jr.

Available November 3
Kick-Ass - For my money, Kick-Ass is one of the best superhero movies of the modern era. It's clever, it's exciting, it's smart, and now it's streaming. Also on Hulu.
Hulu
Available November 1
28 Days Later - Danny Boyle's down and dirty zombie movie was a landmark for the genre; if you haven't seen it, it's a must watch.
Amélie - Few movies have the ability to elicit the pure joy that Jean-Pierre Jeunet's French masterpiece does. The story of a girl whose bland life gets a much-needed dose of fantasy is truly magnificent.

Existenz - David Cronenberg was way ahead of his time with this Jude Law-Jennifer Jason Leigh film which puts a visceral spin on the video game industry. You kind of have to see it to believe it.
The Faculty - Hot off the success of Scream in the 1990s, Kevin Williamson wrote this star-studded horror comedy set in a high school. It's not as good as his breakout film, but it's got that same energy, gore, and smarts. This is a fun movie.
James Bond movies - As I said, 007 is taking over streaming in November, and that's especially true on Hulu. It has, drumroll please: A View to Kill, Die Another Day, Diamonds Are Forever, Dr. No, For Your Eyes Only, From Russia with Love, Goldeneye, Goldfinger, License to Kill, Live and Let Die, The Living Daylights, The Man with the Golden Gun, Moonraker, Never Say Never Again, On Her Majesty's Secret Service, The Spy Who Loved Me, Thunderball, Tomorrow Never Dies, The World is Not Enough, and You Only Live Twice.
Phantoms - Okay, this movie isn't great. It may not even be good. But you have to admit, Affleck was the bomb in it, right?
Pleasantville - Tobey Maguire and Reese Witherspoon star in one of the best movies of the 2000s, a smart, gorgeous drama about two normal kids who are transported into an idealized black and white TV show and turn its world upside down.
Supercop - Supercop isn't Jackie Chan's best film, but even Jackie Chan's worst film (which this is not) is always worth watching.
XXX and XXX: State of the Union - Vin Diesel and Ice Cube, respectively, star in these two films about secret agents recruited from the world of extreme sports. The original is better than the sequel—but if you watch and like one, the second is worth giving a shot.
Available November 10
Big Hero 6 - It's crazy that more people don't talk about this awesome Disney animated film about a team of superheroes. Sure, it was a big hit, has lots of fans, and even had its own spinoff, but still, it probably deserves even more than that.
Available November 18
Hero - This 2002 martial arts epic starring Jet Li, Zhang Ziyi, and Donnie Yen, among others, is one of the prettiest movies you will ever seen. The action and story are fantastic too.
Correction: The Expanse Season 3 has been removed from Prime's upcoming titles so we removed it as well.
Updated 11/10/18: The date for She-Ra moved from the 13th to the 16th. It's been changed above.