New Hank McCoy actor Nicholas Hoult explains how he played the furry mutant in X-Men: First Class...right down to the CGI feet. Doug Liman's Moon-centric heist movie is looking for actors, and Neil Gaiman clarifies the Sandman TV show rumors.
Spoilers from this point forward!
Top image from Captain America.
X-Men: First Class
Here's a new photo of Nicholas Hoult's Hank McCoy talking to Jennifer Lawrence's Mystique. In a related Q&A, Hoult explains how he modeled his performance on original Beast Kelsey Grammer:
In First Class I play Hank younger before becoming a politician, when he is a scientist and still learning about himself and his abilities. So I didn't want to try and just play a younger Kelsey but also bring something new to the role.
What type of preparation did you do for the role of Beast?
In preparation for the role I watched lots of Frasier and listened to people who spoke with a similar accent to Kelsey, my dialect coach and I worked on creating something towards Kelsey's dialect but without being an imitation. I also did lots of fitness training as being in the Beast costume and make up could be very tiring and tough physically.
He also explains some of the CGI effects that are being added to his human form to bridge the transition to the full-on Beast:
Before the transformation Hank's feet are a CGI effect so I would wear a blue sock and then the larger ape like feet would be added in post production. I did wear shoes a few sizes larger so that in theory they would have fitted in.
G/O Media may get a commission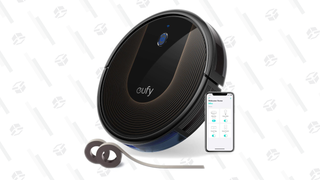 48% Off
Eufy BoostIQ RoboVac
[Facebook]
---
Untitled Moon Project
Bourne Identity and Jumper director Doug Liman is reportedly close to finalizing his long-gestating project about a group of disgruntled space employees who travel the world seeking the equipment needed to return to the Moon and capture a mysterious energy source, with their last bit of equipment being a kidnapped NASA employee. Although the project once involved Jake Gyllenhaal, he has reportedly moved on. Liman is reportedly meeting with a bunch of actors and actresses, including Andrew Garfield, Emile Hirsch, and Chris Pine for the male lead and Rosario Dawson, Megan Fox, Rachel McAdams, Eva Mendes, Zoe Saldana, and Olivia Wilde for the female lead. [The Hollywood Reporter]
---
Transformers: Dark of the Moon
The toy commercial for the Sentinel Prime figure features a couple lines of dialogue that appear to come from the movie. The incredibly evocative lines are "Good to see you alive, Optimus!" and "What has happened to the Allspark?" [TFW2005]
---
Rise of the Apes
James Franco's Planet of the Apes sequel has moved up from November to August 5, 2011. [Fangoria]
---
Scream 4
Here's a trio of sneak peeks. [SpoilerTV]
---
Jack the Giant Killer
Bryan Singer's next movie has a release date set for June 15, 2012, and a synopsis has been sent out:
A fantasy adventure written by Mark Bomback (Live Free or Die Hard), telling a story set in motion when a princess is kidnapped, threatening a long-standing peace between men and giants. A young farmer is given an opportunity to lead a dangerous expedition to the giants' kingdom in hopes of rescuing her. Darren Lemke penned the original draft of the script taking a more adult angle at the popular Jack and the Beanstalk tale.
---
The Magician's Nephew
If there's a fourth Narnia movie - and that's a kinda big if, judging by the unspectacular box office performance of the last two films - Walden Media executive Michael Flaherty has confirmed it will be prequel book The Magician's Nephew, skipping the arguable highpoint of the series, The Silver Chair, and the entertaining but racially problematic The Horse and His Boy. On The Magician's Nephew, Flaherty explained why the story appeals to him:
I love the Magician's Nephew because it's a great origins story. You get to learn so much about where the wardrobe came from, where the lamppost came from, where Narnia came from.
For those bummed about there being no plans for a Silver Chair adaptation, let's not forget - we'll always have Tom Baker. [/Film]
---
Doctor Who
Here's a pair of new trailers for series six. [Doctor Who TV]
---
Fringe
E! Online has some spoiler-y hints for tomorrow night's episode, "Bloodline", which features a return to the over there universe and some revelations about alternate Olivia's pregnancy:
Olivia is pregnant, and while her knocked-up status starts out as a secret, everybody but everybody will know by the end of the episode. Olivia continues to withhold the father's identity from everybody, including her mom (Amy Madigan), but, of course, Walternate is nobody's fool. Not only does Walter know about the pregnancy, but he knows that there's a science-fictional problem with the pregnancy that requires a science-fictional solution. We've seen in the past that Walternate is supposedly more scrupulous and moral than our Walter, but we'll learn in this episode that maybe he's not quite as ethically prim and proper as we'd been led to believe. As is so often the case, this villain really thinks he's a good guy.
There are more details at the link. [E! Online]
---
Game of Thrones
Here are some incredibly gorgeous new location photos.
---
The Walking Dead
Stephen King has confirmed that he's in negotiations to write an episode with his son, fellow writer Joe Hill. [EW]
---
Sandman
Looks like a lot of previous reports, in particular Geoff Johns's recent tweet that he was developing the series with Neil Gaiman, didn't quite mean what they appeared they did. At least, it's rather hard to square them with this recent blog entry from Gaiman himself:
I saw a bunch of press about whether there is or isn't a Sandman TV series: as far as I know, nobody has actually optioned SANDMAN as a TV series from DC Comics, who own it. Eric Kripke (of Supernatural fame) pitched his approach to DC and to me last year, and we liked it and we liked him, but it didn't feel quite right at that point, so we passed. I think that this year the people at DC Comics (and me) will talk to a lot of people who want to make a Sandman TV series, and if we find the perfect person with the perfect way of treating the material, it'll happen. And otherwise it won't.
---
Falling Skies
Here's a new poster. [SpoilerTV]
---
Additional reporting by Gordon Jackson and Charlie Jane Anders.