iPhones. iPads. Android. We've updated all of our essential apps lists to include a few forgotten favorites, some long awaited arrivals and, as always, even more amazing apps. Check them out!
If you want to jump to see the best apps in a specific platform, click here:
The Best iPhone Apps May 2012
The end of the month is here, and that means it's time to do a little housekeeping on our list of the absolute best iPhone apps. Who made the cut?
G/O Media may get a commission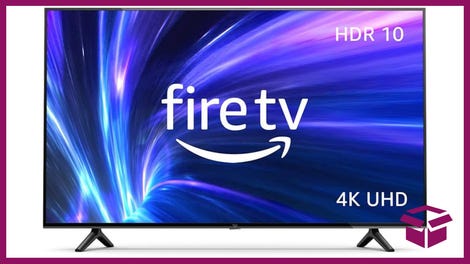 42% Off
Amazon Fire TV 50" 4K Smart TV
Added:
Facebook Camera: Facebook gave us a clue as to why it made that billion dollar Instagram purchase when it dropped this photo app. With it you can upload multiple images at a time, view images, and of course, add filters. Free
Clueful: You want to know exactly what your apps are up to—and Clueful will tell you. It's kind of like a bouncer for your iPhone, letting you know which ones are sneaking into your contacts, tracking your location, following your ad targeting, and doing other things without permission. $3.99
The Weather Channel: The app we're probably already all using was just updated in a big way. It's been completely redesigned with a beautiful new interface, which displays the radar map and temperature more prominently, and includes social integration. Free
Squrl: We all know the pain of staring at the TV with nothing to watch. This app will aid you in your time of need, putting video content from around the web together with Netflix, Hulu, and your social networks to make suggestions of shows and clips it thinks you will like. Free
Simple: Online banking is far from perfect, and Simple recognizes that. This bank replacement service will pull all of your financial services into one place and offer simple tools for you to see exactly where your money is going. You also do a lot of basic things like take a picture to deposit a check-something you can't do with Bank of America. Free
iTranslate Voice: This app will speak Spanish and 30 other languages for you, even if you don't even know the word for "hello." Simply speak a phrase you want to translate, and it will say it back. So next time you're traveling in Germany and you think you're lost, this iTranslate Voice can help you ask a local for directions. $0.99
Visit our updated list of the Best iPhone Apps right here
---
The Best Android Apps May 2012
It's a new month and that means new apps.
Added:
Savored: This app enables foodies to pinch their pennies. By partnering with OpenTable and Zagat, it helps restaurants fill tables at a discount if they dine at a certain time. You can save up to 40 percent on meals and drinks, and make a reservation all within the app. You don't even need to show a coupon. Free
CloudOn: Do need to word processing on your tablet? This app allows you to create, edit, and view files from Microsoft Word, PowerPoint, and Excel all on your slate. You can also view all kinds of types of files, from JPGs to PDFs, and you can sync your stuff on Box, Dropbox, Google Drive, or where ever you stash your data. Free
CoinKeeper: Know exactly what you're spending with this finance tracking app. It's been on iOS for quite a while, but it landed on Android just this week. You'll have your finances organized easily and quickly, so you won't feel that panicky feeling when the first of the month rolls around and you've got a bunch of bills to pay. Free
Turntable.fm: Take turns being the DJ of your personal party with Turntable.fm. The app lets you play music with your friends in customized rooms, where you can spin whatever tunes you like. You get points for being a popular DJ, but if people don't like what you're spinning, they'll give you the boot. Free
Grill-It: The weather is warm now, which means you might be grilling. Grill-it makes sure you don't screw it up. It gives you tons of recipes and helps you with technique, as well. No one's going to leave your cookout hungry (or food poisoned). $0.99
Visit our updated list of the Best Android Apps right here
---
The Best iPad Apps May 2012
Here are the iPad apps you should download to play on your new iPad.
Added:
Sketchbook Ink: When Apple announced the new iPad back in March, it hyped some forthcoming apps on it, too. One of those was Sketchbook Ink, which hit the App Store this week. It lets you can create full-color drawings using your finger, and it's optimized for that shiny new retina display. $1.99
ooVoo: Skype might be your proxy video chat service, but it taps out at a maximum of 10 people on one call simultaneously. To expand your party line, try ooVoo. It links up with your Facebook friends list to let you talk with a maximum of 12 friends at once. They don't even have to have ooVoo installed, just access to Facebook chat. Free
Jetpac: Be careful, because this app might trigger a case of wanderlust in you. It displays your friends' best travel photos and lets you upload your own as well. You can see where your friends have visited, get vacation tips, and make a list of all the places you want to go. Free
Spotify: At long last, an iPad version of Spotify is finally available. In a clean, visual package, it gives you all the all of the familiar parts about Spotify you love, like music discovery, playlist creation, and access to what your friends are listening to. Subscription
WorldMate: If you travel a lot, it's hard to keep track of all of your connections, hotels, flights, and overall schedule. This app is a comprehensive tool that equips you to manage your trips, with currency converters, tip calculators for different countries, local searches powered by yelp, and itinerary sharing. It's like a concierge on your tablet. Free
Visit our updated list of the Best iPad Apps right here
---